Music Reviews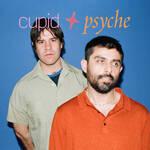 Cupid & Psyche Romantic Music
(felte)

Ten years after releasing their final album as Abe Vigoda, Crush, songwriters Michael Vidal and Juan Velasquez decided it was time to give it another go. Their reunion seemed unlikely. At the time, Crush represented a marked departure from their first two albums—modeling their sound on icy, maximalist coldwave that did away with their signature tropical punk. Although their Los Angeles peers, No Age, received most of the critical adulation—both sharing a similar origin story as scenesters from the beloved DIY local venue The Smell—the band failed to take off outside of receiving blog buzz.
Crush is debatably Abe Vigoda's best album, but it proved to be too different for the purists and too pastiche to break outside of their niche. It was simply unsustainable. Vidal and Veslasquez were sure that Abe Vigoda was long gone, but they remained friends who liked making music. Flash forward to 2020, and the duo, like many long-expired band propositions, thought about teaming up again to reclaim that spark during the pandemic. Fortunately, Vidal and Velasquez pick off right where they left off with a sophisti-pop-indebted sound that coexists with the goth-toned intentions they've always cherished. They decided to name themselves after a Scritti Politti album, follow their hearts, and clear away any expectations.
While they operate as a duo, Cupid & Psyche write hook-driven love ballads that are no short in ambition despite being a little less embellished and more simplistic. Rhythm and groove inform many of the tracks on the aptly-titled Romantic Music, like the sultry Angles in the Phone, which takes a little from Smashing Pumpkins-era Adore—a band they've confessed to liking in the past—and blends it with the dancefloor-ready new wave of Lust for Youth. Serenity's Pit has the closest connection here to Crush, and it's for the better, hammering a propulsive mechanized beat over haunting synths and Vidal's soft croon. Fans of that album's highlight, Dream of My Love (Cashing After You), rejoice.
Velasquez and Vidal dive into some unexplored territory while sticking to what they know, albeit with some growing pains. While Datura Sketch follows a lush, meandering melody with analog beats reminiscent of early Prefab Sprout, the brooding Anxiety's Rainbow tries to shine light into the cracks with dense countermelodies begging for an Aztec Camera-like chorus to come out. As their rebrand implies, the duo looks into, and ever-so-slightly adopts, those artists' out-of-vogue interpretation of pop music with the gauzy dream pop they've tinkered with before. Even if Velasquez and Vidal haven't fully carved their identity as a new project, their savvy sense of songcraft hasn't waned after all these years. It's good to have you back, boys.
16 October, 2023 - 07:30 — Juan Edgardo Rodriguez