Music Reviews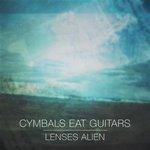 Cymbals Eat Guitars Lenses Alien
(Memphis Industries/Barsuk)

As unimaginative as indie rock has become in this current decade, the same can be said about describing its mechanics with eloquence. But then again, does it really matter? In today's mindset, its genealogy can only be traced from docile corporate rock to fairly distorted blues-rock. As if the popular consensus weren't capable enough of thinking outside the box, the two social classes that birthed rock continue to protect its corners – those who are adulated for their trained musicianship and those who are contrived by a PR machine to serve the masses. Whatever happened to the slacker bloodline? As if impugned for being a negative influence, those Gen-Xers, who paved the way for a better tomorrow, naturally ran out of ideas.
Or so we thought. Slackers continue to exist – some presumably caved in to wearing clip-on ties for a modest wage, while others took matters into their own hands by assembling their very own record labels. And since thirty something music critics stick together with their entrepreneurial peers, they've dictated the quality assurance of younger artists who've learned to be just as nonconformist as they used to be. Cymbals Eat Guitars will turn into future enterprisers – currently, the young Staten Island foursome come off as skilled apprentices who effortlessly harmonize ennui and labor. And there's nothing to worry about because their blood relatives will watch their back.
Lenses Alien is a thick, abundantly ornate listen that overawes as much as it enthralls. Perchance, Rifle Eyesight tries to make a hasty first impression that's just too soon – the caustic eight minutes interject guitar overdubs and mid-break jams to generate an awfully baffling space opus. The only accessibility we'll ever get out of them is how they'll tease an unspoiled melody with the sole intent of following it with a devilish prank – Plainclothes' metrically spacious melody and Definite Darkness' knotty, stop-and-go screeches are simply embracing free form experimentalism with tuneful elation. It's not easy to take the cumbersome task of being so broad, but the band has found a way to turn their abstractions into tight song structures that demand a second look.
Cymbals Eat Guitars' move to American label Barsuk also poses an unforeseen equivalence with the label's usual offerings: if it was not for their complete defiance to write a mid-tempo rock song, Shore Points and Wavelengths do, in their own peculiar ways, peek some well-worn sentiment with a twinkled, nocturnal feel without warning. Above all else, it's a welcome alteration when all the assaulting, Dinosaur Jr. on steroids fuzz tones speckled throughout begin to confound. Which could also be said about Lenses Aliens' major gaffe: it's extravagantly cognizant passages. Giving Ulysses a run for its money, the overtly extravagant verses topple into each other like meaningless intellectualism, which occasionally turns the experience of casual listening into a laborious chore.
So Cymbals Eat Guitars may be critically acclaimed for how they smoothly iron the tattered shirt they so proudly wear. As indie rock has finally hit a commercial standstill, it could even be considered perfect timing. They've not only got the prowess to introduce mopey, headphone wearing high schoolers about the utter lameness of rock radio, but also the ability to reconfigure this notion that thudding noise has to be fettered with agreeable conformity. Music has the right to sound this discombobulated when its composers know how to weave you into their web of splendor. As they write in Keep Me Waiting, it occasionally sounds splendidly empty, which adequately describes a slacker achieving his artistic purpose.
1 September, 2011 - 03:08 — Juan Edgardo Rodriguez