Music Reviews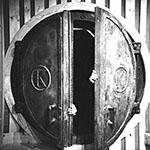 Damaged Bug Bunker Funk
(Castle Face)

A minimal bassline tumbles beneath a sonorous and flat shriek of synthesized sound that spans the intro of Bog Dash like interpreted Electric Miles. While a guitar babbles a series of playful licks, John Dwyer's high vocal syncopates with the track's rough percussion, clearing the otherwise hectic air long enough for his words to flow. Bog Dash is the true opener to Bunker Funk, a light and barely audible ambient piece called Structure Image Approach an almost unnecessary warmup. With confirmation now that Damaged Bug is more than just a creative whim, Bunker Funk is Dwyer's third album of swarming, dissonant circuits and playful, radioactive trips, his non-Thee Oh Sees impulses as heard through keys as opposed to strings.
As Dwyer's advanced this project it sounds as if he's been more concerned with instrumentally building out his vision then refining it, a looseness that's almost as identifiably Damaged Bug as the presence of synthesized tone. 2015's Cold Hot Plumbs certainly offered indication of this as well, (I'm thinking of songs like What Cheer and Very), the psychedelia essential to Dwyer's creative makeup still present while breaking away from acid drenched garage punk, bringing funk and loops to another space and decade.
So, with Bunker Funk, if you were expecting Silver Apples, you're getting Can instead. And, it's a good thing.
The hollow, percussive rush of The Cryptologist seems to offer some form of creative homage to Can's much-adored drummer, the late Jaki Liebezeit. Though perhaps unintentional, this calculatedly cycled motif is deeply connected to Kosmische Musik's legacy and finds its way into the off-kilter strut of Rick's Jummy, lush against-type arrangements that stay with you long into the following track, Gimme Tamanthum, which seems to riff on Ringo Starr's famed Abbey Road drum section. And Liquid Desert rattles along against a playful barrel organ intro and synthesizer-guitar combo, its seesawing low end aiding the sway beneath.
There are aspects of Bunker Funk that sound about as complete as what comprised the bulk of Hubba Bubba, Damaged Bug's 2014 debut, songs like Mood Slime and Heavy Cathedral recalling Dwyer's earliest multi-instrumentalist offerings. He is, after all, still grounded in this persona. However, the undulating malfunction of Slay the Priest and the melodic distress of Ugly Gamma make attempts at moving beyond the limitations of Damaged Bug's signature instrument. He's placing more importance on where he puts beats, stressing accents with woodwinds, (most especially with the instrumental No One Notice the Fly), and employing more of a "band" feel to what is a solo venture. And his guitar contributes as much to this work as any electronic tone, melody, or pulse. The instrument basically cancels out what may otherwise have been digitized tone for the title track, a flute vying for audibility as they're layered on top of each other between verses.
Unmanned Scanner, though, loses touch to some extent, Nuggets-derived psychedelia not far enough removed from Thee Oh Sees' world of colorful guitar-driven fuzz. Even the flourishes of tone floating throughout the track don't do enough to keep it consistent with the rest of the album. However, Unmanned Scanner isn't such a drastic departure that it interrupts Bunker Funk's cohesion overall.
With The Night Shopper, Dwyer ends the album with an array of light synth pulses and plucked strings, his vocal light, "I think of you in these troubled time, yeah." The nocturnal conversation of crickets carry the album through its final minute or so, another cyclical device providing some rhythmic closure.
14 March, 2017 - 04:49 — Sean Caldwell