Music Reviews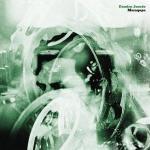 Damien Jurado Maraqopa
(Secretely Canadian)
Buy it from Insound

I know I have no business writing reviews for this site since I feel mild elation that I've found a new record I actually enjoy on something other than a purely intellectual or even theoretical level. I was really starting to give up hope. Don't worry, this isn't going to be one of those "I've seen rock's future" pieces telling you about how my faith in new music was restored by the transformative experience of hearing Damien Jurado tunes. This album isn't going to change your life. For me it's just enough to find music I genuinely enjoy listening to over and over, which is not something I can say for a lot of albums I've heard and/or reviewed recently, even those I've been positive about.
So what is it about this record that got under my skin? If I had to sum it up in one word I'd say "mood". Through recurring, slightly discordant motifs, like the descending, bird-like figure on Reel to Reel, or the quick electric piano arpeggios on This Time Next Year, Jurado creates a trippy, '3 in the morning' vibe that gives this diverse collection of songs a unifying character. Maraqopa begins deceptively, with a Hendrixian guitar groove-out which brought to mind positive associations with 1983 (A Merman I should Turn to Be), and that's saying a lot. The follow up, Life Away from the Garden, represents such an abrupt shift in style that it takes a few listens to adapt to the subversion of your expectations. Only then do you realize what a beautiful song it is, with its call and response child chorus; a device that sounds far cheesier on paper than how it's executed. About halfway in you may start to wonder if Damien is ever going to cheer up and the answer is a resounding NO! Like Radiohead, you have to be prepared to accept the perpetual bum trip in order to enjoy the ride. To be fair, Jurado doesn't sound terminally depressed so much as comfortable with an approach that suits his vocal timbre, which borders on the constricted and tremulous, giving it the unfortunate whiff of emo. But I like this record enough to give him a break by saying it's not his fault; as a wise woman once said, he was born that way. If I'm going to fault the album I'll say that the song Working Titles sounds a little too much like a pitch for a VW commercial and that it ends with Mountains Still Asleep, which to my ears is its weakest song.
Despite these minor quibbles what you have here is one hell of a late-night record, with plenty of wistful longing and just enough sunshine to keep you off the suicide hotline. Treat it like a Nick Drake album. Soak up the beauty and try to put on hold any need you might have for a guilt-free, joyful noise.
29 February, 2012 - 21:20 — Alan Shulman