Music Reviews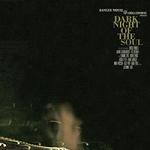 Danger Mouse and Sparklehorse Dark Night of the Soul
(Self-released)
Buy it from Insound

"Due to an ongoing dispute with EMI, Danger Mouse is unable to include music on the CD without fear of legal entanglement. Therefore, he has included a blank CD-R as an artifact to use however you see fit." – Dark Night of the Soul website.
At the time of writing, the closest one can legally come to getting this album is via a Dark Night of the Soul merchandise site where a poster and blank CD-R are available for $10. Already this album has a taste of the forbidden fruit about it and, we might wonder, it is debatable whether or not reviews of this record would be at all possible without the internet. These days the latter functions as a kind of 21st century tree of knowledge, constantly tempting users in despite the latent fear of divine reprimand. Or a court case. Either/or.
Danger Mouse is no stranger to legal disputes surrounding sacrilegious offerings. In 2004 he self-distributed The Grey Album, a mash-up of a cappella cuts of Jay Z's The Black Album and The Beatle's The White Album. The stunt, while making him famous and landing himself a variety of famous admirers (and future collaborators), from Damon Albarn, to Cee-Lo Green, to Beck, similarly caught the legal attention of the aforementioned (and now surely infamous) label EMI, who were unhappy with his use of copyrighted material. Did he learn nothing from this dispute? More importantly, did EMI, who, more than ever, now seem like the joyless Christian right to Mouse's magical Harry Potter?
All of this is, of course, beside the point, as, thanks to the demonic electronic forces that now share our workplaces, homes, and coffee shops, Dark Night of the Soul can be available for just a little piece of yours. Tempting, isn't it? What makes it more tempting is that it's a new piece of music by Sparklehorse, aka Mark Linkous, and Danger Mouse, and a collection of collaborators from the indie elite (and a couple of appearances from David Lynch), the first 5,000 copies of which came bundled with a collection of David Lynch photographs taken especially to accompany the music.
For the most part, this record sounds like a Sparklehorse record sung by a collection of famous indie singers most of whom sing in a similar register to Linkous any way. There's nothing wrong with this. A new Sparklehorse composition is not to be sniggered at and, where it works, it really works. Revenge puts Flaming Lips' Wayne Coyne against a sparse keyboard background, singing about the tragic pitfalls of, well, revenge, and sets up the subdued night time atmosphere the rest of the record mostly sticks to. Both tracks sung by ex-Grandaddy frontman Jason Lytle are great and Lytle, like Coyne, has just the right sort of vocal (non) chops for Linkous songs.
Unfortunately, the tracks weakest tracks, sung by Frank Black and Iggy Pop, respectively disrupt the flow a little. Although I can respect the turns each has taken in their respective famous, mythic, bands, I don't rate either very much outside of their more familiar habitats. In stark contrast, Julian Casablancas sounds, on Little Girl, more alive and vital that he has since Is This It? More surprising, although, at the same time strangely unsurprising, are David Lynch's two tracks where he adapts his creepy-child-stuck-in-octogenarian's-body voice to music to great effect (please go make another film now though, David).
I must confess that I am not generally a fan of records constructed mainly of guest vocalists which leads me to muse that Dark Night... would have been better either as a Sparklehorse record proper, or, just with less guest vocalists. As it stands, there is a lot to like here and a lot to digest. One advantage to having so many vocalists is that each song can be separated and dealt with accordingly, giving the record the sort of film soundtrack feel I think the principle authors were aiming for. Other than that, this unburdens Sparklehorse fans slightly of the wait between albums by providing a mainly interesting and, at times, genuinely moving distraction.
5 July, 2009 - 20:24 — Nick Fenn