Music Reviews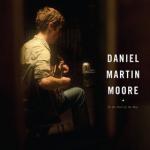 Daniel Martin Moore In the Cool of the Day
(Sub Pop)
Buy it from Insound

The second solo effort from Kentuckian singer-songwriter Daniel Martin Moore doesn't exactly go out of its way to win over the casual listener. It is essentially a collection of homely gospel songs, only four of which are DMM originals. The other seven tracks are reworked versions of traditional compositions and old Christian hymns, penned by fantastically named artists like Horatio G. Spafford and William Lamartine Thompson, both of whom were active in the 19th century. Needless to say, In the Cool of the Day is not a typical Sub Pop album.
That iconic black and white logo sure is important, though. Sub Pop's patronage guarantees Moore far more opportunities and press inches than his understated and – let's be honest – rather unfashionable material would otherwise earn him. The venerable label's stature ensures that In the Cool of the Day will be favourably compared to the likes of Iron & Wine and Phosphorescent, rather than narrow mindedly tagged as 'religious music' and written off by people who find that very concept unappealing. It took 4 or 5 listens for me to warm to this album and I doubt I would have persisted that long if it wasn't for the Sub Pop stamp of approval.
I don't know anything about Moore's background and beliefs, but there is a palpable sense emotion on some of the more overtly religious numbers (Closer Walk With Thee, Softly and Tenderly). Whether he believes in the subject matter or simply admires the power of these old hymns is irrelevant to me; these are beautiful, sincere recordings for all to admire.
It perhaps bodes well for Moore's future work that my favourite song on the record is one of his own compositions. O My Soul could easily have wound up sounding like a crass pastiche of an old spiritual, but it's testament to Moore's love for this music that it sits so comfortably alongside songs over a hundred years its senior.
In the Cool of the Day is far from perfect, though. Moore's smooth vocal delivery suits the more minimal productions well, but it can become cloying when the backing track is too upbeat, such as on the irritating Up Above My Head. The album also feels a touch light on original material – a 50-50 split would have been more appropriate, especially given Moore's status as a relatively new artist. While I can appreciate his skill as a performer, I don't feel like I'd heard enough to pass judgement on his songwriting abilities. Putting these grumbles aside, however, there's plenty to enjoy here if you're prepared to invest a little bit of time in Daniel Martin Moore.
12 January, 2011 - 10:29 — David Coleman