Music Reviews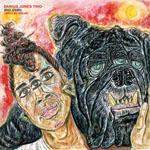 Darius Jones Big Gurl (Smell My Dream)
(AUM Fidelity)
Buy it from Insound

The jazz music of the Darius Jones Trio is not exactly free but it isn't standard either; it fits into a third category. It's untethered and unafraid to get inspiration from Duke Ellington, Nirvana, and rapper Ol' Dirty Bastard; it's spiritual but doesn't exude otherworldly intentions of transcendence. Big Gurl (Smell My Dream) is their second album on the avant label AUM Fidelity, and Jones' second album as bandleader and composer. Teamed up with drummer Jason Nazary and bassist Adam Lane, the album is the second of a conceptual album series that will trace growing up in the American South as Jones experienced it. The first was the 2009 release Man'ish Boy.
There's a feeling of unrest in Jones' technique. Mosquito-buzzing slurs and bends come relentlessly. Sometimes he holds one note like a bagpiper, waiting for Nazary's drums to swallow it up in cymbal crashes or snare and bass footwork, or Lane's double-bass to noisily erupt in clusters of color, either played arco or pizzicatto. (Lane switches between them both often. Sometimes you can't hear the change.) Jones' glissandi are abrasive and his melodies never stay too long in one mode or tonality. On slower numbers, he subdues his acrid tone and exchanges it with a quasi-mystical timbre. You can hear him thinking before he plays his notes.
A Train, a rendition of the Billy Strayhorn standard, sounds both through-composed and constrained. Without knowing beforehand that the song is a rendition, I would have thought that the piece was originally written by Jones (as all the other six songs are). Jones honks the melody temerariously, Nazary comes in hard. There is a seeking feeling throughout the song – that feeling of unrest. None of it sounds like "Take The A Train."
Jones' playing continuously searches for a place of rest, but it is fruitless – his compositions orbit around an absent center whose gravity is too distant to come close to. It's thunder, but it isn't sweet. He sometimes sounds like an Ornette Coleman-esque self-trained musician (although he is not; he has a Masters Degree in Jazz Performance and Composition from NYU.) Other times he screeches notes out of his alto sax, like Coltrane did, in fistfuls of notes. Although his compositions shy away from the beauty of a simple melody, it's truly incredible to hear the chaos of the trio and how a little order comes out of their playing. The trio is tight. They kill on the record.
8 November, 2011 - 18:47 — Michael Iovino