Music Reviews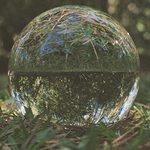 Darkside Spiral
(Matador)

Released in 2013, Psychic, the debut album of Brunonian duo Darkside (stylized often: DARKSIDE)-—Chilean-born electronic musician Nicolas Jaar and American multi-instrumentalist Dave Harrington—is the closest I've ever come to experiencing Ego Death at the hands of an audio recording. For film it was Stalker (1979), for literature it was Gravity's Rainbow, and for video games it was BioShock. I hadn't yet encountered an album with quite the same vastness and kaleidoscopic sensibilities, an album that rejected categorization or genre convention in this exact manner, an album that could make you forget who you thought you were in the best way possible, until 2013.
Collaboratively, Jaar and Harrington, both based out of New York, artistically inclined towards the avant-garde. Both brooding, introspective, and intellectual in equal measure, they possess a Yin-and-Yang dynamic that not many other current musical outfits have. If Jaar's left-field electronica and elusive lyrics are the band's means to mystify, Harrington's instrumentation and guitar work is their conduit to something human, something more palpable and lucid. That the duo's name immediately reminded you of an album roughly 45 million people own is surely intentional on their part, but not for brand recognition or promotional purposes—at least not entirely. Psychic doesn't have anywhere near the clout as Pink Floyd's flagship 1973 LP The Dark Side of the Moon (only a handful of albums do), but it does possess the tone of that iconic album. If anything, it helped carry the otherworldly spirit of Floyd into the 21st century, updating it for fresh, electronically-tuned ears; the past 50 years of music collided with the next 50 when Psychic came out. But where do you go from there? Where can you go from there?
Enter Spiral, Darkside's triumphant return after an eight-year hiatus. Announced at the tail-end of 2020 with the release of lead single Liberty Bell, the album comes as both a pleasant surprise and a much-needed shot in the arm for 2021, pun completely intended. After two years of global turmoil (or, if we're being more brutally honest, universal misery), hearing what these two virtuosic artists had been concocting whilst holed up in the studio with nowhere much else to go is, put bluntly, life-affirming. And that's exactly what Spiral is: an alchemical concoction of beats, textures, sonic flourishes, and melodies that sound like they were recorded in a world that had no precedent.
Harrington stated in a July 2014 Rolling Stone interview that he "grew up in a house where jazz was the musical language," and it shows now more than ever on Spiral. Darkside's aesthetic, while essentially unclassifiable, has always had an undercurrent of bluesy psychedelia and mind-bending dance music, iced with the loose, jam-based, push-and-pull dynamic of a jazz band— something especially noticeable during their live performances. But from the opening chimes and dubby, off-kilter bass kicks of Narrow Road, complete with Jaar's unmistakable, somewhere-between-irresistibly-sultry-and-disturbingly-languid crooning, it becomes clear that the band is utilizing even freer compositional methods, building sparse soundscapes and musical passages but letting them have as much say as those that fill the space with lush detail. Consider album highlight The Limit, which propels a tight groove across lattices of blippy synths and clipped vocals but disintegrates into a dizzying, formless clatter of drums and chords in its final minute—not unlike John Coltrane's Ascension, albeit on a macro level.
As ethereal and heady as Darkside's music can be, I don't want to make Spiral out to be some kind of science experiment. While I find Psychic to be more gobsmacking—more of a juggernaut of an album—I think anyone who is drawn to sound as a means of expression will find plenty of things to love about this album. Case in point? The eight-and-a-half-minute Inside Is Out There, Spiral's penultimate track, with its contemplative, Hanging Gardens-era Necks-esque shuffle and heavenly arrangements, is tailor-made for headphone adventurers, and I can't imagine any serious listener coming out the other side feeling like they wasted their time. Call me dramatic, call me overzealous, but don't call me disingenuous, because this is a truly mesmerizing follow-up for a band with few peers and even fewer fears. [Believe the Hype]
23 July, 2021 - 20:31 — Jackson Glassey