Music Reviews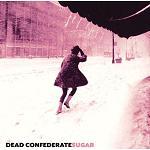 Dead Confederate Sugar
(TAO/Old Flame)

As a music writer doing reviews weekly, occasionally on groups he might not be intimately acquainted with, it's nice when a band chooses a name that sheds at least some light on the their sound. With a name like Dead Confederate, you're almost certainly going to get a very dark, Southern-tinged rock music. But if you listen even not-so closely to Sugar, the band's sophomore album, you hear the band's more profound influences: a synthesis between the overly dramatic alternative rock of the Smashing Pumpkins and the grimy blues-grunge of Toadies. Sadly, though, this album gets bogged down in paying homage to said influences and not in giving enough space for the more organic odes to really stand out.
Each of the tracks is technically proficient and seamless in its ability to make miserable, jagged rock flow so effortlessly. For many of the tracks, however, that seems to be just the problem. The LP leans too far into those musical aspirations, hovering far too close to the creative womb. Quiet Kid is so close you'd almost confuse the distorted vocals and ineffective wave of mutilated guitars for any random cut from the Pumpkins. Father Figure is a bit more sonically morose, and thus more rich, but it finds itself incapable of adding to the tradition of modern alternative rock. In The Dark may be the worst offender; as a flannel drenched Dinosaur Jr. knock-off, it suffers the worst fate: a hackneyed lyrical concept. Truly a fate worse than death.
Speaking of Dinosaur Jr., one of the few truly inventive tracks on the album (Giving It All Away) features that mainstay's founder, J. Mascis. On top of that hard-edged rock goodness that the band loves, there's a sort of dreamy coating to the sound, a lighter-than-air quality that adds a nice balance and some real bulk to a song that would otherwise be just a lot of noise. And in another case of someone else saving the day, Run From The Gun features Ben Wigler of the texture-heavy, melody-friendly band Arizona. Wigler's temporary infusion into the band's sound births a track that's highlighted by a dusty old guitar that creaks and strums up memories of old and the gleeful drawl of a downhome Weigler. While guest spots and cameos are everyday occurrences in music, having the best tracks on the album feature fellow rockers should say to the band and any listeners that they're still in dire need of some gentle creative molding.
Save for a few tracks, you get exactly what you'd expect from a band like Dead Confederate: middle of the road alternative rock music with seemingly little depth and a whole lot of cliches. But when put into more able hands, the workmanship and sonic aim of the band actually excel, creating tracks with all the doom and gloom they admire and all the substance they so desperately crave. What's in a name? A lot. What's in this album? Not enough.
23 August, 2010 - 07:36 — Chris Coplan