Music Reviews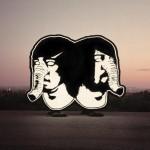 Death From Above 1979 The Physical World
(Last Gang)
Buy it from Insound

It's hard to believe that it was a whole decade ago that Jesse F. Keeler and Sebastien Grainger dropped You're A Woman, I'm A Machine - an LP that was something completely outlandish, operating outside of every other paradigm at that time, and imitating nothing that had gone before it. It was breakneck fast, with Keeler and Grainger playing like their very bones were on fire, exploding out from the blocks of the Toronto underground with an arsenal of furious riffs and schizophrenic grooves. DFA had refined their own mad science, fusing a beatnik dance-punk blueprint with a quaking cascade of noise-rock with spectacular results.
Little did we know, in 2004, that You're A Woman would not be followed up until 10 years later. Those irritating, irksome 'musical differences' meant that DFA was no more, splitting in 2006, with Keeler and Grainger embarking upon a number of mildly fruitful projects (most notably Keeler's electronic duo MSTRKRFT). Even once a reformation was announced in 2011, questions remained over whether new music could be written, and whether it could reach the searing heights of one of the most influential records of a generation. We needn't have worried…
The Physical World more or less picks up where its decade old predecessor left off, which is admirable it itself. It goes without saying that the landscape has naturally chopped and changed dramatically since those mid 2000s bands, directly influenced by DFA's scorching breath of fresh air (namely The Klaxons, Late of the Pier amongst others), had their year or two of success before fizzling out without leaving much of a scar in the bedrock. Considering this, for the imposing Cheap Talk to burst out the box with the same intensity and recklessness as Turn It Out did 10 years earlier, it's downright exhilarating to hear, and will have any fan of You're A Woman frothing at the prospect of another record full of ruthless aggression, breathtaking speed and callous vigor.
Of course, there is some 'recorded-in-2014' paraphernalia in here, like the glitzy, shimmering synths that wash over the punishing riff of Cheap Talk, and the gaping pianos in Trainwreck 1979, but the blueprint hasn't changed at all in their decade apart. Even the structure of the record (and I use the term 'structure' very loosely) is mirrored, with track White Is Red acting as the restrained, sober keystone of The Physical World, in very much the same way as Black History Month did in its position at the heart of You're A Woman. White Is Red in itself is a genuine highlight, with a relatively delicate riff from Keeler's fuzzed-out bass providing the canvas for a pained reminiscence of a teenage heartbreak. As far as clichés go, there's not many more trivial than 'there isn't a bad track on this album', but in this case there really isn't. Keeler's conveyor belt of hulking bass riffs shows no sign of slowing down as the record progresses, with the grooves of Right On, Frankenstein!, Government Trash and Gemini deserving mentions.
This review was always going to refer back to You're A Woman, largely due to the fact that the decade-old band's only previous LP in DFA's legacy (yes, they definitely had one after one album) is defined entirely by it. Keeler and Grainger could only have realized that the only way to put those musical differences aside was to thrash out another fierce, frenzied assault, and pick up where they left off, and the results are better than anyone could have expected. If anything, the only thing that makes this album slightly less brutish than its predecessor is the fact that it has been recorded 10 years on, with some of the studio-rawness and savage fuzz from 2004 lost in a decade of time. Don't for one moment let that imply that this is a duo that has lost any of their cutting edge or brashness. The brakes on DFA's music were cut well before You're A Woman dropped, and they still haven't bothered to get them fixed. A lot has changed in 10 years, but DFA's approach to making ferocious music certainly hasn't.
11 September, 2014 - 04:50 — Carl Purvis