Music Reviews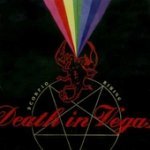 Death In Vegas Scorpio Rising
(BMG)
Buy it from Insound

There was a moment on Messrs Fearless/Holmes last album which to this day strikes me as being on of the greatest musical moments ever: the point where the London Gospel Choir kicked in on Aladdin's Story smacked of sheer brilliance. Nothing less. Sadly, the rest of the album kind of paled in comparison for me. While every media hack fell over themselves to gush praise on The Contino Sessions, this weary cynic was left with that "It's good, but not that" feeling. But, oh happy day, the follow up is excellent.
As expected Death In Vegas themselves (aforementioned Richard Fearless and Tim Holmes) don't actually do much on the record itself. Again, the guitar/bass/drum team of Ian Butten, Matt Flint and Simon Hansen is brought in to handle all that nasty recording process.
And on the opening two songs Leather and Girls they knock up a sublime piece of My Bloody Valentine tinged melodic noise (on the latter complimented by breathy female vocals) that'll have you reaching for Isn't Anything in no time.
But variation is the name of the game here, as represented by the people brought in to provide vocals. Paul Weller gives 100% Fire & Skill on So You Say You Lost Your Baby - a cover of a song by the late, great Gene Clarke.
Frankly, I've no idea who Nicola Kuperus is, but her vocals on Hands Around My Throat are amongst the most haunting I've heard this side of Ian Curtis. Complemented by a relentless bassline, it's an wonderfully uneasy song; the repetition of "Your hands around my throat...your hands around my throat" could cause uncomfortable shifting in your chair.
But a major shock comes with the title track. And it's that Liam Gallagher really is a good singer. He just needs some decent material, as shown here. His characteristic sneer and swagger comes across fantastically here, sounding better then anything he's been involved with since Oasis first emerged.
A damper is put on affairs when Fearless/Holmes try to be a bit too careful. The instrumental Natja could well be doomed to endless skipped plays and 23 Lies also pales in comparison to it's neighbours. However, all is forgiven by the presence of Hope Sandoval.
As if co-writing and singing on the country blues Killing Smile wasn't enough, she does the same job on the gorgeous album climax, Help Yourself. A 10 minute epic with strings, sitar and Sandoval's gorgeous vocals, working in the same way that Primal Scream's Come Together did: you don't want it to end, you want those two chords to go on forever. Thank whichever God is up there for repeat buttons.
13 November, 2002 - 00:00 — Peter Mattinson