Music Reviews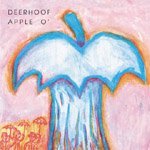 Deerhoof Apple O'
(5 Rue Christine)

Maybe it's the elitist indie snob in me, but I've never been too fond of writing this kind of review; the kind where all I can offer is a newcomer's perspective on an established band's umpteenth long player. I hate not having my very own opinion on the artist in question's entire back catalogue, because as a reader, that kind of in-depth knowledge is something I'm always looking for in the reviewer. Still, growing up in an isolated town, in an isolated county in the north of England, you kind of get used to not hearing about things until they're old news. After eighteen years with no semi-respectable record shops, no chance of seeing decent films, and at times even a shitty TV reception, I've always been fighting a losing battle to catch up. Thankfully, as Deerhoof prove on this occasion, this fight is not always without its rewards.
As you've no doubt figured out from my apologetic opening paragraph, Apple O' is my first experience of Deerhoof, but it's an experience nonetheless. Of course, I've read dozens of articles about this curiously named four-piece - I'm weird like that - but for all their fancy adjectives and preposterous metaphors, none of these genuinely provided me with any clues as to the Deerhoof sound. Unfortunately, this modest little write-up will automatically join that list too, because try as I might, I've got precisely zero chance of summing up the powers of this oddball outfit in a mere 500 words. Put simply, they just defy easy description.
The first things you'll notice about Apple O' are the trademark guitars - all angular and discordant, delivering some of the dirtiest melodies you'll hear this year - and Greg Saunier's wonderfully sporadic percussion; aggressive if required, but happy to plod along gently when not. A more than adequate base, I'm sure you'll agree. The icing on the cake, however, is added courtesy of Satomi Matsuzaki, without a doubt the most unique vocalist I've had the pleasure of hearing this year. Eccentric's not the word; her high-pitched warbling is just plain otherworldly, and quite obviously Deerhoof's vital ingredient.
Lyrically, Apple O' is a somewhat perplexing affair, the only obvious theme being 'love'. But rather than go all slushy on us, Satomi offers a string of almost nonsensical couplets about apple cores, card games, and curiously enough, Adam and Eve. The latter is dealt with beautifully in fact, on one of the album's few slow numbers - the word ballad would be slightly inappropriate here - Apple Bomb. It's all very confusing at times - The Forbidden Fruits sees Satomi repeating the phrase 'leopard fur no store' throughout - but if you go with the flow I'm sure you'll enjoy it.
The sumptuous Apple Bomb aside, highlights include riotous opener Dummy Discards A Heart - check out that awesome cascading guitar riff - the bright and breezy L'Amour Stories, and perhaps the album's most accessible track, the acoustic guitar led finale, Blue Cash. But in a different mood, I could easily pick another three.
So, here's the conclusion: Apple O' is a strong album with a strong sense of individuality. As a newcomer, I can't comment on how it compares to last year's much acclaimed Reveille, but you can take my word for it: I fully intend to find out.
24 June, 2003 - 23:00 — David Coleman