Music Reviews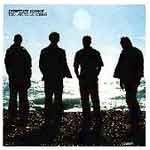 Departure Lounge Too Late To Die Young
(Bella Union)
Buy it from Insound

After the opening minute or so of the ambient dirge that is Straight Line To The Kerb I'm close to losing my faith in Departure Lounge. Surely they're not going to be another indie band gone electronica? Well they are sort of, but things do soon take a turn for the better.
Too Late To Die Young is the London-based four piece's second album and is apparently (although I've not heard debut effort Out Of There) a more spaced-out, ambient affair.
Acclaimed French trip-hop/ambient dance producer Kid Loco handles the production duties here and he certainly puts his stamp on it. As a result, it's difficult to determine exactly how much Departure Lounge have contributed to the overall sound. Nevertheless, there is some strong material on here to enjoy, with tracks like King Kong Frown and the sleepy Silverline standing out for me.
As I often find with these ambient records however, there are also a few tracks that don't really go anywhere. Tubular Belgians In My Goldfield epitomises this and really had me yawning excessively.
Intriguingly, Too Late To Die Young features a couple of interesting collaborations, both of which serve to add something different. Firstly ex-Cocteau Twin Simon Raymonde lends a hand on the whimsical folk number, Alone Again, and..., which while undoubtedly a nice enough track, feels a touch out of place especially next to the drawn out Tubular Belgians In My Goldfield. Departure Lounge frontman Tim Keegan's old boss Robyn Hitchcock is the other artist to make a contribution, and the result is the equally bemusing Coke & Flakes - a strange, dirty little blues jam that again seems a bit lost on this album.
Anyway, you probably get the message already. Too Late To Die Young is a mixed bag of ambient pop. Sure, there are some great tracks here, whereas others are virtually sleep-inducing. On the whole however, this album lies on the good side side of average.
31 March, 2002 - 23:00 — David Coleman