Music Reviews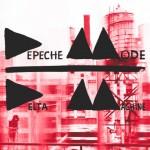 Depeche Mode Delta Machine
(Columbia Records)
Buy it from Insound

Depeche Mode is in a bit of a rut, creatively. The last album that really offered fans a completely new musical experience was 2001's Exciter. That intimate, low-key affair may not have fired on all cylinders, but was notable for its unique nature in the band's catalogue. You would have to go back 1997's Ultra to find any songs that the band has found good enough to consistently play each subsequent tour. Unfortunately, while there are some good songs on Delta Machine, the trio plays it safe to the detriment of the album.
Delta Machine has a lot of similarities to 1993's Songs of Faith and Devotion, although it is nowhere near as powerful. The blues-tinged flairs, the strong vocals and the harsh synth backgrounds are all in place, but without the risks. There are no songs that make your ears perk up like Judas did, with its uilleann pipes or the strangely processed piano of Walking in My Shoes. Rather, the strongest qualities come from Dave Gahan's vocals and the live instrumentation that is scattered throughout.
One of the best examples of throwback to that early 90's record is Angel. Gahan sounds conflicted, possessed and frantic during the verses, only to achieve a sense of calmness during the minimalist chorus. A droning background is mixed with dashes of gritty guitar work. The first single, Heaven, uses live, heavy piano chords give this song a weight that many others on this album are missing. While Soft Touch/Raw Nerve is pretty simple, it'll make a fantastic driving song with a consistent, pounding rhythm and an semi-litany style of singing. Later on, Soothe My Soul overcomes a backing synth melody that sounds like a broken copier with a bluesy, danceable chorus.
The real star on this album, both vocally and in terms of surprising songwriting quality, is Gahan. Secret to the End has an arpeggio synth riff that gives way into a high-end atmospheric melody. The chorus shows great interplay between Gahan and Gore's echoing vocals. The driving melody of Broken makes up for an overly done introduction. The difference between the music's fast pace and Gahan's relaxed, calm vocals is an ear-bending combination as well. Should Be Higher features a stunning vocal performance from Gahan, who puts his rarely used upper range fully on display over a simple, rolling electronic beat.
The rest of the album unfortunately is made up of filler or songs that waste their potential. Slow has a sleazy, blues riff as its centerpiece, but is surrounded by aggravating noises, such as a siren synth which shows up two-thirds through. Despite an intriguing, tribal-sounding drumbeat and a minimalist start, My Little Universe seems more like a remix, with the synth melody rudely breaking apart the atmosphere. The Child Inside is not a bad song, but sounds like most Gore-led vocal songs do. It's a slow, melancholy ballad. It would be great to hear Gore try his hand more often at a fast-paced or upbeat song.
It is a shame that the band seems to feel the need to make these long albums now, when their best work, Violater and Songs of Faith and Devotion, contain nine and ten tracks, respectively. Their last four albums have all had between 12 or 13 tracks. This is the type of band that excels best at quality, not quantity. A few cut songs would have made Delta Machine much tighter.
Despite many good songs on this album, you will definitely get a sense that Depeche Mode is in a holding pattern. Hopefully, something will come along to get this long-running machine moving forward again.
23 April, 2013 - 04:08 — Joe Marvilli