Music Reviews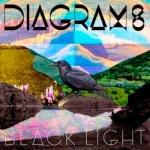 Diagrams Black Light
(Full Time Hobby)

Today's electronic producers get it. To work under the parameters of record label bureaucrats and the demands of concert promoters means satisfying an audience by causing a social phenomenon. The defining factor for success cannot be only attributed to an appealing show name that can be easily pronounced in two syllables and a carefully programmed console. Because really, who cares if someone like Diplo sells records – if you want to make loads of money, the first step to achieve this is to acknowledge that filling up the dance floor with shinny happy people willing to numb themselves out for a night is the main objective.
There's something to be said about producers who cloak from view, preferring to associate themselves under a band format. So it's fair to assume that Sam Genders, who goes by the name of Diagrams, carries a self-effacing tone as a way to emphasize his artistic intent. But there's a quality Genders has that matches him with any bustling hotshot producer – a knack for hypnotic big chords and mantric vocal phrases, conveying a congenial jubilance that incites a feeling of euphoria and contentment. But the similarities end there – Genders could very earn his spot under a big tent as much as fill blissful headphone wanders in solitary thought.
The first single released from Black Light, Tall Buildings, is a bit of a misnomer – an orchestral groove filled with bass licks, patterned handclaps, and gripping neon melodies suggests a highly strung musical excursion. Detached yet tightly snug with the floaty comeliness of Tunng (of which he used to be a member), Genders actually emphasizes on writing snappish, lighthearted electronic pop songs with a pure immanence of positivism. The title track, Black Light, brims with celebratory fervour, with carefree Genders repeating pleasurable sing-a-longs (the whole world is moving) and common man maxims (if I can lose myself than lose myself I will). There's a glass laugh full with many of Genders' gossamer-thin lyrics, who occasionally comes across as a motivational speaker – the promotional photograph of him making a hand gesture of a dove with a luminescent background of a clear sky doesn't do him any favors and is, quite frankly, unsettling to look at.
Besides all its thematic misfires, Black Light is an all-around patchwork of brainy arrangements and palatable textural work. From the twitchy electronic slabs and progressive guitar fusion of Mills to the brazen brass section found in the mid-tempo surge of Appetite, Genders weaves in a deluge of exacting peculiar tones with a high level of proficiency as if it were second nature to him. Particularly striking is the jazzy exuberance of Antelope, in which a skronky bass slap and vigorous violin strikes build into a crescendoing micro classical movement. The album's finale turns full on psychedelic in the Super Furry Animals' evoking Peninsula, which starts placid enough with an agreeable acoustic folk and takes a left turn in the final minute by fusing stomp and anthemic howls with IDM; the fact that Genders' vocal dawdle has the same intonation of Gruff Rhys makes for an apt comparison.
Diagrams' transcendental motif sounds more like a one-off project than a fully-fledged endeavor, which may explain the freewheeling sense of experimentation to be had. What's curious is how Genders has been unfittingly buckled alongside the same crop of one-track mind electronic producers when, in truth, the electronic component simply embellishes different pop constructs instead of motivating an audience to tear up the stage. Really, Genders temperate electro pop is slight yet urging to break free, motivated by a desire to shed his old skin and evolve under a new moniker. It's apparent how the songs in Black Light accurately transmit that same spirit of contagious, triumphant discovery.
5 January, 2012 - 10:27 — Juan Edgardo Rodriguez