Music Reviews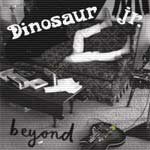 Dinosaur Jr. Beyond
(Fat Possum Records)

The years have been kind to Dinosaur Jr.
Thanks to the constant exploitation of 1980s underground rock by Kurt Cobain, Dinosaur Jr. - along with Sonic Youth, Sebadoh, The Melvins, Black Flag, Hüsker Dü and anyone else whose name Cobain was able to fit onto his homemade t-shirts - was ensured a place alongside the typical fare covered by long-since-pacified rags like Rolling Stone or Spin.
Now, more than 15 years after the fact, Dinosaur Jr. has released Beyond, a comeback album of sorts. In the interest of saving you the suspense: It kicks ass.
There's no real ambition here; there never was with Dinosaur Jr. It's just 50 minutes of ball-busting, ear-splitting, hyper-melodic and heavy-on-the-gain stoner rock.
While predecessors like The Fall, contemporaries like Sonic Youth or followers like Pavement or Built to Spill might have achieved more collective cultural awareness or even success - Dinosaur Jr. is one of the only bands of the bunch that has managed to remain pretty much unsoiled.
But 15 years is a long time to go between records. The Stooges made their way into reunion territory and puked over their legacy with the respect and dignity of a frat boy and erstwhile sap-rock "icons" The Police proved it was always about the money with its reunion tour.
Not Dinosaur Jr.
The brilliance of Dinosaur Jr. - besides J. Mascis' expressive guitar solos - is the band's commitment to apathy. If Dinosaur Jr. had a slogan, it would be: We do things the easy way.
So it's a good thing the band didn't try to fuck with its formula and release a record that sounded like The Strokes, Bloc Party or Kings of Leon; as with most attempts to fit in, they're always a step behind the times.
No, Beyond sounds incredibly behind the times - and that's okay. Records like this don't really exist anymore. Despite modern technology, and the obvious use of Pro Tools, Beyond sounds full of life and retains at least some of the indie charm of the group's finest record, You're Living All Over Me.
Producer John Agnello stays out of the way on Beyond, allowing the band to do what it does best. He simply captures the band in its best moments - moments that run aplenty on this record. Pick Me Up, the six-minute epic third track, makes its way from grinding punk to Mascis' solo, squalling and squealing into the song's climax like a firecracker out of hell.
Pick Me Up is a great example of what makes Dinosaur Jr. great and what makes this reunion different than the rest. This is the sound of a band that's in it - again - for all the right reasons.
22 May, 2007 - 06:51 — Matt Erler