Music Reviews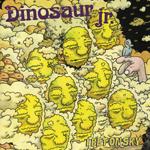 Dinosaur Jr I Bet On Sky
(Jagjaguwar)

Never mind that the original Dinosaur Jr trio has been together longer since reuniting than they did during their original stint. Here's what really matters: The music Dinosaur Jr has released since reuniting is good enough to make you think that they never broke up in the first place. That's not to say that their music still has the uncontained swashes of volume and noise and proto-grunge energy that characterized an album like You're Living All Over Me, but if 2009's Farm didn't convince you that these guys are for real, I Bet On Sky should.
If there's one word to describe I Bet On Sky in context of the noisy, distorted discography of Dinosaur Jr, it's "mature." It's not really different, although it certainly doesn't have any overwhelming resemblances to anything else they've done, and Watch The Corners and I Know It So Well prove that J Mascis isn't shying away from overdriven bursts of sound and guitar solos, and Pierce The Morning Rain is immediately propelled forward by Murph's unrelenting and powerful drumming, but through all the unmistakably Dinosaur Jr elements, I Bet On Sky is awfully neat in presentation. Their albums have become gradually more produced since reuniting, now approaching post-Lou Barlow era levels, with guitar overdubs, even mixing, and a minimal amount of feedback, but that is far from a bad thing. Mascis' lyrics maintain the level of introspection and personality they've assumed since Bug, but his past tense has distanced itself from the black-and-white viewpoints that his immediacy elicited. Instead, it is as if these years have given him both newfound perspective and newfound eloquence. More than anything, this album proves Mascis as one of the most underrated lyricists of his era; no '80s alt-rock pioneer has been so human and unpretentious about feelings as Mascis has, and the relative modesty of the music allows this overlooked quality to shine.
Lou Barlow recently reunited his other major group, Sebadoh, and toured and recorded with them while I Bet On Sky was in the making, and indeed, the basslines are not as consistently strong as they usually are, and it's Mascis' overdubs and Murph's energy need to pick up the slack. They do a good job, but if Sebadoh proves anything about Dinosaur Jr, it's that Barlow is the most versatile and imaginative songwriter of the bunch, so his presence feeling distracted does not give these 10 songs the versatility that they need. From song to song, structures seem to repeat themselves, and while even the most basic of these contain more complexity than most power trios can muster, neither are they terribly exciting. The guitar work impresses regularly—the solos here best anything on either Beyond or Farm, but the songwriting doesn't yield the catharsis that Mascis' vocals clearly strive for. See It On Your Side does not reach the emotional highs that the "take me there" plea aims for, and it plays mostly as Mascis' a call-and-response with himself. The final solo dazzles—it may be the high point of the album—but the build-up is not as effective as it should be when it's placed next to so many similar songs.
Dinosaur Jr have proved that their misfires are still pretty good, and J Mascis does everything he can to win the titular bet, so to speak. His help, though, is only intermittent. There's Watch The Corners, great even by this band's high standards, but there's also Stick A Toe In and Rude, which are effective mostly for what they tell us about J Mascis as opposed to their value themselves. But even the most talented group of songwriters are bound to come up short once in a while, and what's so frightening about that happening on I Bet On Sky is how good it still is. For all its obvious flaws, none of it seems to matter. When you hear that guitar soar, those rhythms pulse, and that voice cry out, you want to keep listening, for all 47 minutes. And when they're over, you want to do it again.
26 September, 2012 - 08:18 — Forrest Cardamenis