Music Reviews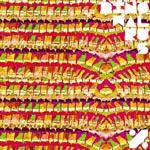 Dinowalrus %
(Kanine Records)

So, Dinowalrus wants you to be aware of the economy and the significance of the little symbol with which they named their new album: %.

But, I think everybody already understands.

Times like these tend to test the limits of hope and human resilience, sometimes resulting in an angry brilliance that can find its way into the societal consciousness via outlets like the now-defunct CBGBs, for instance. Optimism revolts against hope, eliminating itself for the sake of the reality check. Thusly the littered and tattered streets of any suffering environment become all one can really see, appreciate and comprehend.

Some very life affirming art was born out of times like these. Some amazing records, too. Up until this point, I didn't really have much hope that economically crippled U.S.A. would unleash any sort of consciousness expanding statement. And I still don't. But, I have noticed music picking up its aggression in a way not readily suited for Mallterna-youth or hipster-heads up on what's supposedly "obnoxious." The metal is more cerebral, the indie rock has more of a serrated edge and bands like Dinowalrus seem ready to replicate old New York the right way.

Over the course of the last nine years, bands have been flirting generously with post-punk revivalism, garage anti-clarity and No Wave shock and awe. Dinowalrus is essentially another spoke in everything coming back around, but, (with the notable exception of Mi Ami), such a level of groove heavy reinterpretation and attention to source material rarely comes across this genuine. Once BEAD reached my ears I could tell that Dinowalrus was one of those bands whose skill seems irrelevant next to the record collection that brought them to be. And, it's not as if they don't possess the skill to pull it off, but the era to which they owe this music coats every line and enhances every texture. % tries to remind us, symbolically and literally, where we've been in the past, and what wonderful sounds have transpired thanks to stupidity, greed and their places at the top of the food chain. We're there again, so here's Dinowalrus: Get listening.

There's a minute ten invested into an introductory bit of noise entitled, East German Western before Dinowalrus grinds through Electric Car, Gas Guitar with Ramones fuzz and echoing vocals. Dance Punk then exchanges fluids with New Wave and cums up with Dance Punk New Wave for the aforementioned BEAD, whose Public Image propulsions and Pop Group minimalism provide enough foundation for an alto sax to shriek in the expanse like an acid baked James Chance. The two-part act of I Hate Letters (No singing) and I Hate Numbers (No counting) build upon DJ inspired pause or break, roughing up the edges with garage guitar but keeping the rhythm dance-friendly.

Owing a lot to Sonic Youth, (once again, old New York), Cage Those Pythons merges Sonic Youth's gentler side with Cramps-ish surf riffs while Haze on the Mobius Strip takes the Youth aesthetic and gives it a heavy dose of Jesus And Mary Chain distortion and some of Pink Floyd's cosmic flair. It's an odd mixture of sounds, but Dinowalrus works them into an all-encompassing noise collective that's neither too abrasive nor too controlled.

Nuke Duke 'Em takes Wax Trax! industrial sounds and old school thrash and brings in the indie rock construct to slow the assault, like Ministry being cock blocked by Joy Division. Nuke Duke 'Em's last moment of speed carries the album into CMYK, which is a somewhat sinister and mostly percussive seven minutes of art rock. At times, CMYK feels almost like Berlin era Bowie or like the last few minutes of Iggy Pop's Mass Production, (from The Idiot), slow and modernized by synthesized dread.

The issue with % is that it is, albeit it a collaged variety, a replication. Dinowalrus is at the surface, speaking the language spoken years ago by the voices on those dusty LPs they hold near and dear but that's part of the problem. %, in that it's a reminder and indicator of times that were and are, doesn't seem the response to trying times, at least, not TODAY's trying times. Instead, it's a letter of longing, written to an era whose ideas and innovations have found themselves depleted by years of reconsideration and lack of imagination.

The Horrors managed to get away with this sort of regurge last year with Primary Colours, their success simply based in that they could make the past sound like it belonged to them. Though replete with electronics, Dinowalrus, with the exception of BEAD and CMYK, fail to come up with their own identity. Consequently, any indication of our economic decline seems irrelevant next to theirs.
24 January, 2010 - 22:32 — Sean Caldwell