Music Reviews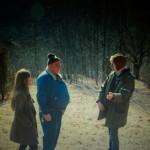 Dirty Projectors Swing Lo Magellan
(Domino)

If ever you're in need of evidence of the widely-held notion that indie-rock is getting increasingly boring alongside the snowballing trend of hipsterism, you might do worse than catalogue the popular reaction to the wildly inventive music of Dirty Projectors. After a series of elaborate and sometimes overly indulgent compositions on all of their past albums, much early criticism of Swing Lo Magellan seems to stress how stripped-down the record is, as critics are lining up to apologise profusely for how "challenging" their previous work was, as if to u-turn on the widespread acclaim of 2009's Bitte Orca (for me perhaps the best pop record of the last ten years).
But yes, implications aside, there is a distinction: whereas once, Longstreth was a composer, on Swing Lo Magellan he tries his hand at being a songwriter. And it's the most refreshing move of his career.
He's one of the few people on earth who'd have thought that a convoluted art-pop Black Flag covers album would be a good idea (2007's Rise Above), or a borderline unintelligible rock opera about Don Henley (2005's The Getty Address). But by 2009 the band achieved (for me) honest-to-god pop perfection on Bitte Orca. It was all I felt like listening to for at least two months – summery, and full of huge choruses, but intricate enough to always offer new means of enjoyment; they'd attained a perfect balance between accessibility and complexity.
And although Swing Lo Magellan is even more accessible, it wouldn't be right to call it simplistic or even minimal; it is as rewarding and replayable as any of their previous work. It's full of tunes which twist and turn in all sorts of odd places, and lyrically, it's an unpredictable journey. A lot of this accessibility is simply in the mood of the album. Whereas before, the first thing you may have noticed about Dirty Projectors is just how many notes were crammed into their guitar riffs, here my first impressions were the album's imprecisions – Longstreth's rough-edged (but always expressively rich) vocals, handclapped rhythms on most tracks, guitars that sound as if they're in the room with you.
What's more, they pull this off without compromising the quirks that made them a big name in the first place. As ever, the harmonies from Amber Coffman and Haley Dekle are exquisite in their nuances, providing a headspinning chordal accompaniment to haunting lead single Gun Has No Trigger, and Coffman takes a welcomed centre stage for The Socialites, an engagingly twisted form of RnB. Elsewhere, the zany bouncy-ball percussion and awkward-fitting meter of About To Die provides a quintessential Dirty Projectors moment, when the loosely-wound strands remarkably collide into a singalong chorus. Or take the bridge of Dance For You and its dramatically avant-garde 25-piece orchestra 15-bar bridge section, or the falling-apart rubato guitar detuning nods to free-jazz of Maybe That Was It. The band thrives on ideas that shouldn't work but totally do.
This is all on the same album as Impregnable Question, a love song mirroring the structure of classics like God Only Knows and In My Life. Longstreth establishes doubt in a relationship but it only serves to strengthen his gesture of love: "And though we don't see eye to eye / I need you, and you're always on my mind". It's highly compelling to hear a songwriter unafraid of embracing both the experimental and the traditional, without ever really highlighting a disparity.
It sounds effortlessly authentic, if the candid cover hadn't already clued you in. But hold on, keep in mind the band released Gun Has No Trigger on an 8x8 square tablet, with a B-side etching of the song's lyrics in Sumerian Akkadian cuneiform. And if you haven't yet seen the Jodorowsky-esque trailer for forthcoming accompanying film Hi Custodian, it exposes a disturbing flipside to the record's upfront aesthetic. "How could I hope to seize the tablet of values and redact it?" Longstreth intones on About To Die, and whether intentional or not, it puts me in mind of the metaphorical mysticism of dark heavy metal. Imagine this verse on Unto Caesar delivered by a gravelly Scandinavian axeman: "When the gray-scale conjurer / Bad bet / Where the life like perjurers / Ride it / Where the vestite spectators / Watch it / Where the weapons gentlers / Gun it" – yet this cryptic doom-mongering is undermined not just by their sweetness but by a snippet of Coffman's studio banter – "That doesn't make any sense, what you just said…" "High Custodian" could easily be the title of a Death album, but Longstreth's pun sends his grandiose tendencies playfully off-kilter.
These darker undercurrents are always secondary to the genuinely blissful melodies, a contradiction finally acknowledged in the closer Irresponsible Tune: "In my heart, there is music / In my mind is a song / But in my eyes a world / Crooked, fucked up and wrong". It summarises Longstreth's heartfelt yet disconcerting view of human existence as documented across the record, in all its conflict and false hints towards optimism. The album is a melting pot of so many brilliant musical perspectives, which could only be channelled by a band with a gleeful, wide-eyed fascination with the possibilities of their music. And they succeed in their knowing but expertly-delivered goal: to sound like no other band out there.
12 July, 2012 - 09:39 — Stephen Wragg