Music Reviews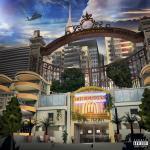 DJ Orange Julius The Grove
(Mall Music)

DJ Orange Julius has spent the past few years dropping mixtapes of freewheeling, humorous, and frantic footwork for the Mall Music collective. On his proper debut, The Grove, he continues to put a clever twist on the genre, toying with footwork's boundaries with an absurd sense of humor while displaying some seriously impressive production skills. Take for example lead single Still Geekin', which chops and rearranges Gucci Mane's hazy Breakfast into a humorous mantra about smoking weed, drinking lean and licking Miley Cyrus for breakfast that's bursting with hyperactive snares and big booming beats.
Skkrtt takes a similar approach by spinning on a well-known and meme-worthy rap verse over equally chaotic beats. Both songs thrive on a sense of unpredictability, but when you listen closely, you can make out just how carefully arranged they really are, and both are probably the best two examples of how much of a balance he's capable of striking between humor and craftsmanship.
The Grove feels a little more polished than his previous mixtapes and even allows traces of pop music to creep into the mix a little more than before. Out on the Floor and Bring It Back both feel like blissed out, dizzying dance numbers, and then there's the DJ Mastercard collaboration Finally Together, where tranquil pianos, breathy vocals, and delayed breakbeats create a languid atmosphere on an album that otherwise thrives on giddy chaos.
Mall Music boss DJ Paypal also shows up for a guest spot with Unforget, a typically absurd but especially impressive take on Nat King Cole's classic Unforgettable. What makes it all work is how DJ OJ allows room for accessibility and his more adventurous side to coexist in the same space, producing some truly exciting moments in the process.
But as the back half of The Grove shows, he hasn't completely polished away the rougher edges of his earlier music. Songs like Muthafuk'n G prove he's still plenty capable of turning out the kind of hard hitting cuts that nevertheless feel suited for crowded clubs, or in the case of Magic Shid, with its looped sirens and tense sparse beats: full scale riots. Regardless of how "serious" he tries to come off, though, DJ Orange Julius isn't someone capable of keeping a straight face, and it's that smirking humor along with a playful spirit and ear for detail that helps make The Grove a fun and invigorating listen.
19 July, 2017 - 23:19 — Jeremy Monroe