Music Reviews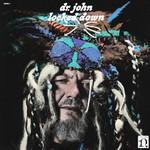 Dr John Locked Down
(Nonesuch)
Buy it from Insound

In recent years there has emerged a trend – a by-product of the music industry's fetish for all things retro – for artists in the later stages of their careers to team up with younger or more credible musicians (or producers). These collaborations invariably result in a stripped down set of songs – the artist laying himself (and it seems to only apply to male artists) bare, seemingly in search of a kind of authenticity that previously may have proved elusive. Probably the most notable example of this phenomenon is Johnny Cash's American series of albums, produced by Rick Rubin. The vulnerability and honesty present in these recordings make for sometimes difficult, but always compelling listening. On the other hand, the trend also throws up oddities such as Tom Jones's Spirit In The Room, an album of covers by such artists as Tom Waits, Paul McCartney, and Blind Willie Johnson. Jones's bellowing baritone does no favours to a track like Leonard Cohen's Tower Of Song.
Dr John's Locked Down is the latest in this line of trans-generational mash-ups. His first album (as Dr John The Night Tripper), Gris-Gris (1968) remains one of the greatest albums of all time. A record of slippery uncategorisability, it was essentially psychedelic R&B, but combined with electronic touches that recalled the studio-as-instrument approach of Phil Spector or Brian Wilson. The added element of Deep South voodoo boogie created an utterly unique sound, one deeply influential to Tom Waits among others.
So it is with a degree of scepticism that I approach this new album, in which the Doctor teams up with producer Dan Auerbach from The Black Keys – a group I am deeply ambivalent about: on the one hand superficially enjoyable, fist pumping 70s style classic rock, on the other hugely derivative, calculating and formulaic 70s style classic rock. My concern is that Dr John's unplaceable originality will be diluted and dissipated by Auerbach's record-collection approach to music making. That this pitfall is not only avoided, but brilliantly transcended is a cause of great delight and relief. Auerbach seems to truly understand what the Doctor is about – he is reported to be a long-term fan – and this is born out from the start on the atmospheric opening title track. There's a real intensity to the songs here, as John's vocal reflects a visceral anger that comes from bitter experience, but it's matched by the instrumentation as Mingus-like bass, steamy organ and stabbing guitar work together to (almost) recreate the unique atmosphere of that legendary debut album. It's not all darkness though – Big Shot rolls along on an infectious groove with a funky brass section; Ice Age nods its head towards African influences – Fela Kuti perhaps, or King Sunny Ade; My Children, My Angels builds its crescendo slowly from a brooding funk to glorious anthemic climax. Finally God's Sure Good gives the Doctor some respite, as he contemplates what's good in life and the world.
Combining the talents of one of popular music's few true originals with those of one of his acolytes could have resulted in something flat and lifeless – a re-tread over ground well trampled. Thankfully that has not happened here. Locked Down is the result of a synergy between musicians of different generations – both have something to bring to the party, and the combination is compelling. It is an album of rare energy, heat, sweat and motion, and a salutary lesson to all that age need not diminish one's mojo. Auerbach reportedly promised the Doctor that he would help him make "the best record you've made in a long time." That may have been youthful arrogance, but he's only gone and done it.
28 June, 2012 - 08:43 — David John Wood