Music Reviews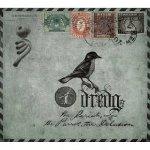 Dredg The Pariah, The Parrot, The Delusion
(Ohlone Recordings )

In music, there's something to be said for ambitious concept albums, even if they don't turn out quite like their masterminds had hoped. The Pariah, The Parrot, The Delusion is one such example: much, much more than some experimental outing, Dredg's fourth full-length album is cut into varied pieces like some overwrought mosaic, at times both exultant and dragging. In short, it's a rather thick undertaking that could use a pruning or two, its triumphs constantly tampered by random flourishes seemingly added in for little else than their off-putting aura.
Luckily, Dredg is led nobly by the pure-voiced Gavin Hayes, whose strong vocals are always tinged with a longing melancholy. The California quartet's inherent catchiness and pseudo-philosophical lyricizing is no more special than, say, Minus the Bear's, but manages to exceed the sum of its parts thanks to Hayes' inherent strength as narrator, his voice an admirable boon to their every cause.
As demonstrated here and on 2005's Catch Without Arms, Dredg's raison d'être is carrying the 90's art-rock torch, their work sandwiched nicely between the Smashing Pumpkins and Foo Fighters on the metaphorical shelf of alternative heavyweights. As such, their music is somewhat lost in time, caught much as the Silversun Pickups are in the previous decade's glory. Still, rarely does hard-edged arena pop come much smarter or self-realized, and but for the strange pathways and sideshows that the band peppers about, the album largely avoids rock pretentiousness. There is an ever-grim soul beneath the facade, and in that familiar dichotomy longtime fans will find solace, with tracks such as Information deftly blending beauty and menace into a poppy punch.
Distractions persist, however, and the album is often weighed down by its see-sawing identity. Packed with filler instrumentals, one-minute notebook entries, and other pretty diversions, The Delusion skips from solid musicianship to amateur experimentation in the blink of an eye. How else to explain the baby brays, machine glitches, and other frick-a-frack of Mourning This Morning? Or, for that matter, the digital lullaby of the Stamp of Origin quartet – four brief songs that act as interludes between the more fleshed-out pieces – that, while pleasant, are not quite as effective or absorbing as Dredg thinks. Songs like these and Long Days and Vague Clues seem more apt for overwrought rock operettas than modern progressive forays, often bordering dangerously on the parodied territory of Trans-Siberian Orchestra.
Yet though it often oversteps its own ability a few too many times, The Pariah, The Parrot, The Delusion is clear in aggression and ambition, rarely annoying listeners with undue hubris. When Dredg finally reaches experimental nirvana with Cartoon Showroom – Hayes' powerful bellows trickling against harpsichord and other plucked atmospherics – listeners will realize what the album is meant to be, but never regularly achieves. In the end, the boys of Dredg deserve admiration for their aims, at least, as they seek to produce austere rock beauty amid the stumbling.
29 May, 2009 - 08:39 — Kevin Liedel