Music Reviews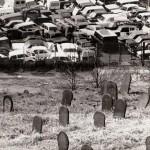 Drenge Drenge
(Infectious)
Buy it from Insound

When preparing to listen to a band with a name like Drenge, you're not exactly going to be expecting a relaxing aural massage to provide some low-key R+R for your lobes and drums from the get go. It's onomatopoeia in a sense: 'drenge' could easily be a verb, and if you were to define it, it would certainly involve bringing down a crescendo of energy-efficient, dirty aggression onto an unsuspecting bystander. In reality, the word is actually the Danish for 'boys', but that isn't to say you won't feel like you've been on the receiving end of an intense 'drenging' after wrapping your ears around this superb debut record.
Drenge have come along firmly within a honeypot of drums/guitar duos that can boast varying degrees of acclaim (and blues) from the past 12 months. It would be premature to draw comparisons that are too intrinsic to the pioneers of the motif, but there is a definite witchcraft in the superbly-surnamed Loveless brothers that divulges a feral, completely uncultivated rockslide with a sensationally intelligent membrane that plays peek-a-boo within the swathes of untamed recoil. These two come from a sleepy village in the Peak District, and it's definitely safe to say that their music will be the filthiest thing to have ever found itself in their postcode.
The record itself is ultimately a plethora of influences alchemized into an advancing hazard that blitzes everything in its path. It's frantically fast and races from track to track, with lyrics that do not beat anywhere remotely close to the perimeters of a bush. Opening track People In Love Make Me Feel Yuck amalgamates a blues-laden riff (that Josh Homme would positively salivate over), with a frenzy of crashing cymbals, all whilst Eoin Loveless groans simplistic gear-grinders with obscene grit. Dogmeat is in the same bracket, and you would be hard pushed to find out whether the first two tracks of Drenge, or Eiffel 65's debut single, had more blues. Each track gives way to its successor around the 2-minute mark, making the onslaughts bitesize and wondrously easy to digest.
Drenge is littered with sardonically charged bursts on what's wrong with the world, but it's not a case of the duo taking themselves too seriously, or punctuating their streams with the overbearing self-loathing of your grunge imitators. Rory and Eoin Loveless have smashed the nail's head into smithereens on this front, almost taking the proverbial piss out of such trivial quantities. The noteworthy tracks that continue to arrive at a furious rate of knots give a crude insight further and further into their repertoire. I Want To Break You In Half and Bloodsports are equipped with DIY-fitted chugs that are mainlined into your bloodstream, maintaining the ceaseless acceleration that will "make you run to the hills / make you piss your pants." Remember that bush we mentioned?
This debut LP is 100% raw, but it's that sardonic, exquisite wit which works in a thoroughly inconspicuous manner that makes the urgency dynamic. The riffs remain untamed and bestial, no more so than in Face Like A Skull, which channels everything from a Bleach-era Cobain-esque cocktail of riffs to a stream of lyrics that display supremely the brilliant cynical satire of two ethereal minds. Drenge does not stop accelerating, increasing the strength of its dose all the while, until it's closing track. Contextually appropriately titled Fuckabout displays a delightful chord progression strummed at an alarmingly slow pace. The title of the track says it all, but whether inadvertently or not, it shows another, tranquillizing string to the duo's bow, but nevertheless increases the sardonic intensity right until the very end.
Drenge's debut is excellent, and it will no doubt have you appropriately 'drenged'. The tracks, bar an 8-minute thrash and a frightful, ironic change of tact in the closing stages, are confined to 2-minute onslaughts that don't offer a break to catch your breath. Its brash, brutish façade accelerates in a way that keeps the commendable aphorism hidden at a glance, but its intensity is an infectious science, alchemizing its influences into a championing 37-minute mass movement. They even made an appearance in a Labour MP's open resignation letter following a scintillating set in a tiny tent at Glastonbury. They couldn't have cared less…
2 September, 2013 - 11:07 — Carl Purvis