Music Reviews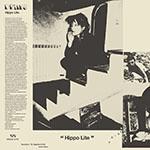 Drinks Hippo Lite
(Drag City)

It's possible the regular goings on pertaining to daily existence can stifle one's facility for concentration when there is an attempt to complete some creative endeavor. Call this a productive vacation: it was in the Saint-Hippolyte-du-Fort countryside of Southern France that Tim Presley (White Fence) and Cate Le Bon found a way to cancel out the noise and create some of their own for the second Drinks album, Hippo Lite.
Apparently crafted over the course of a month between regular afternoon swims with nary a wifi signal to offer distraction and connectivity, Hippo Lite is a nod to the environs that enabled its creation. "This is broken music," Presley explains. "A crumble. It's the music of the building we called home for a month." As the area's nocturnal residents become involuntary collaborators that unintentionally provide Presley and Le Bon more instrumental possibilities (especially for In The Night Kitchen), this self-imposed shelter from life also bred a number of ideas that vary in approach, sequencing precious folk (Blue from the Dark) and exploratory interludes (IF IT, When I Was Young) with art-infused fringe rock (Real Outside, Corner Shops) and even a play on waltz (Greasing Up). The results border on "rough cut," as if five or six of the album's twelve tracks were fully developed and meant as anchors for Hippo Lite's more spontaneous and quirky output.
Defining "fully developed," please consider the charmingly eccentric Real Outside, Le Bon's list of wants sung with an air of resignation. "It's real outside your house," she sings, a couple bass notes thumbed as guitar sounds are stabbed throughout its casual stroll. From this track, I pick up a more sedate variation of Ludus, an inventive structure treated with a playful vocal. The plucked sway of Greasing Up is pierced by a lovely series of keyed melodies, an attribute that's also carried into the following track Corner Shops, which picks up a rhythmic suggestion or two from post-punk's more funk-laden offerings (particularly The Pop Group or James Chance). I do find the piano melodies that accent Greasing Up, Corner Shops and the bumpy Pink or Die appealing. The added lushness enhanced the songs for me.
The minimalist half-minute of IF IT, the tape manipulated piano instrumental When I Was Young and the field recorded backdrop of In The Night Kitchen all occur on the first half of the album. As I mentioned, Hippo Lite has a "rough cut" feel, which is not only relative to how the album sounds, but the album's cohesion. Following the lengthier IF IT (Reprise), the loose Trout Mask Replica urgency of Ducks sets up the similarly odd Leave the Lights On, which finds Presley and Le Bon repeating the same words overtop abrasive bowed strings and a structurally brittle drum loop. The aforementioned Pink or Die follows with a series of thumping bass notes and synthesizer tones interrupted by a slowed up, piano-laden hook. While one could say the majority of Hippo Lite's material is experimental, Presley and Le Bon placed their most avant and uptempo vocal tracks toward the album's latter half, a block of songs that sort of run together before its closer, the violin-driven You Could Be Better. Consequently, the sequencing feels rushed and impatient.
By contrast, Presley and Le Bon initially want to show you around, the light and airy Blue from the Dark opening the door, slowly introducing you to their muse. By the end, it's difficult not to feel as though you've overstayed your welcome.
27 April, 2018 - 04:35 — Sean Caldwell