Music Reviews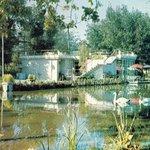 Ducktails Ducktails III: Arcade Dynamics
(Woodsist)

Better known for his work with Real Estate, Matthew Mondanile has quietly released a batch of bedroom projects that snugly co-exist with the Jersey foursome's much more appealing melodic pop. Intended to capture personal accounts mostly told in first person perspective, Mondaline cautiously invites with a tangy aroma and lively acidity. These dispiriting tunes sound like drug induced downers, barely cracking the walls to let some sunspots caress the dark corners of his black walls.
Listening to Arcade Dynamics, a valid point comes to question: when is an individual recording of a one-man band strong enough to vie with a fully developed body of work. Many artists, even Mondaline himself, have achieved this in the past by simply following their instincts. The most interesting aspect of Ducktails' previous home recordings was how those jams slipped into a spiral of careless detachment. Since Mondaline's forte is coating a wave of sonics to tape recordings, his guitar flailing was mostly unpredictable, if not a bit quirky. Akin to Kurt Vile's lo-fi pedal trickery, Mondaline's ambient tones bounce the walls like musical therapy. As long as those elements stayed inside the room, he kept reaching for those floating ideas until they made their way inside his magnetic tape.
A debate could be made about whether or not Mondaline is trying to develop his sound with a wider-reaching scope. With Arcade Dynamics, a bit of that moral fiber is lost, resulting in a pleasant number of hooks that hone the psychedelic tag a bit too conventionally. Killin' the Vibe and Sunset Liner draw a familiar setup: his echoing vocals creep in to some sun-drenched guitar refinements, like picturing a long-haired beach bum serenading to some tattooed brunettes. Dragging what he's learned from his day job, they feel like fairly inoffensive pop tunes.
Whether or not they're ample choices, there are slight revelations scattered throughout Arcade Dynamics. Sprinter flirts with his more accessible aspirations – it breezes by like an immediate fuzz-pop tune with an oriental touch, ready to give him mention in a few hype blogs. Don't Make Plans follows similar suit with a layered guitar strum about lamenting a proximate adulthood knocking on Mondaline's door. But for every pleasing bonfire rhyme, it isn't really a Ducktails release without a few trial tests. The inclusion of instrumental sketches Arcade Shift and The Razor's Edge fall flat with their unfocused psych wobbles, which serve like distracting interludes to the jangly tunes.
It comes as a surprise how Mondaline refused to stray away from his contributions with Real Estate. To some extent, Arcade Dynamics ditches some of the previous instrumental jamming to achieve a much more song-oriented assortment. Whether or not the jump from independent recorder to official bedroom artist has any weight in the issue, he constrains his creativity, sounding more aware of his outlook to others as an artist. Mondaline challenges himself when seeking a more accessible territory, yet tamely touches upon his unrestrained side. Hopefully he can disenchant that bad case of role inversion the next time around.
1 January, 2011 - 09:42 — Juan Edgardo Rodriguez