Music Reviews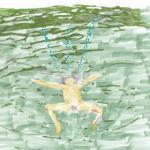 Dustin Wong Dreams Say, View, Create, Shadow Leads
(Thrill Jockey)
Buy it from Insound

If there's one accusation that can't be levelled at Dustin Wong, it's that he doesn't know the way around his instrument. The Baltimore resident, formerly of fun art rock experimentalists Ponytail, is adept at creating colourful, intricately woven tracks using only his guitar and an array of pedals, with very little studio interference beyond the occasional overdub. It is impressive stuff, hypnotic and gently beguiling, and makes for a rather lovely listen. His melodies gently arrive and overlap one another like fallen snowflakes, while shimmering guitar lines cascade across the mix. Occasionally Wong will switch the template, as with On/In The Way, which effectively plays out in double time with a rare sense of propulsive urgency, but this is by and large a record that moves at its own pace, and a calm one at that.
Dreams Say, View, Create, Shadow Leads is his second solo release, clocking in at just under an hour and largely following a similar format of utilising delay and loop pedals as his primary way of creating such delicate, pretty soundscapes; tracks such as Sprinkle Wet Toes are almost evocative of far-flung rainforests, as though each layer of guitar serves a different purpose in the ecosystem of the record, the interplay between elements is fluid and nuanced. Some tracks segue neatly into one another, as with the one-two punch of standouts Evening Curves Straight and Back Towards Night while others end somewhat abruptly – you can imagine Wong jamming on his own, lost in the myriad of sounds he ekes out before bringing it all to a close with a single stamp of his foot.
The music draws clear influence from mainstays of experimental music, most notably in the case of Steve Reich and the slowly unfurling minimalist harmonies that characterised his work. This is not the first, nor will it be the last, record of progressive, hypnagogic guitar playing and therein lies a significant pitfall: while it is a pleasant listen, it is also rather forgettable. One of the drawbacks to working with limited tools is that it invariably leads to a restriction on where the music can go, which leaves Dreams Say… trapped within narrow confines. Some will find the 58 minutes of relatively similar fretwork a chore to digest, and though Dustin Wong shifts the tempo across the record and employs the occasional searing riff or tapped backbeat, the light and breezy nature of the music can meander around the halfway mark. That said, if you are in the market for an undemanding album to get lost in or to use as superb background music for work purposes, then this could well be for you. When spring rolls around, no doubt it will be spent soundtracking many a lazy day staring at clouds drifting on by; something I'm sure Dustin himself would warmly approve of.
19 January, 2012 - 09:42 — Gabriel Szatan