Music Reviews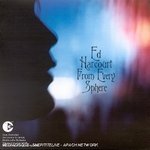 Ed Harcourt From Every Sphere
(Heavenly)
Buy it from Insound

What is it with these middle/upper class kids that make them grow up to create such great music? Guess it must be the time and comfort to be creative, when the working class amongst us have only enough time and energy to be hypnotized and coaxed to our beds by little boxes of inconsequence. If it's not The Strokes and their rock n roll revolution it's Radiohead with their inspired take on the misery and mystery of introspection. If that wasn't enough, here we have another eccentric posh boy with great tunes, charisma and a disarmingly wonderful take on Burt Bacharach's back catalogue.
Ed Harcourt plays the kind of quirky pop that Elliot Smith would make, if he could only stop putting that damn needle in his arm for just five minutes. From Every Sphere essentially picks up where his last offering Here Be Monsters left off, with criminally catchy song after beautifully arranged sad song following each other with silkily sweet ease. Current single All Of Your Days Will Be Blessed is only one of many pop nuggets that stick in your head and refuse to leave; there is an abundance of commercially viable material present, with at least five possible singles out of the twelve tracks. Harcourt's well-known adoration for Tom Waits is also much in evidence, with Ghost Writer coming a little too close for comfort at times, but nonetheless a witty and inventive piece of work.
Lyrically he veers from comically wry to deeply moving, at times the words are devastating and add a depth to what in others hands could sound shallow and too sickly sweet. On the dreamy ballad Sister Renee he huskily pines a simple "I will miss her so" and so the sound of a million melting hearts transform into a beautiful wash of strings.
There are a few times when he tends to overplay his clever card a little, but if you've got it, flaunt it, isn't that what we're taught?
7 March, 2003 - 00:00 — Mark Mason