Music Reviews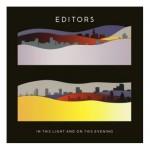 Editors In This Light And On This Evening
(Kitchenware Records)
Buy it from Insound

Editors must have it pretty bad within themselves. Instead of being celebrated for their previous two albums, despite being best sellers, they were always one step behind the pack in terms of artistry. The Back Room, certainly a homage to the urgency of post-punk revival, felt more like a rehash; a band trying to reach for the baton when the relay was finished, but they persevered. And then came An End Has a Start, another exercise in guitar scratching and nursery rhyme lyricism that simply echoed the shadow of its former self. Both were blatant attempts at making obscurity accessible, alongside powerful anthems and flashy, although never abused, synthesized effects. The sound that they adopted was like masticating a heavenly piece of gum, only to find out that the taste turns stale after a few chews.
In this Light and on this Evening is a logical step for the well-dressed Birmingham four-piece. I mean, how many times can you disguise a song like Munich – which is a good enough song in itself – and expect any sort of respect apart from an arena crowd of thousands. It was becoming evident that an Editors song was entirely predictable: a change-up in synths to start it off, verses with screeching guitars, some existential philosophizing for the simpleton to ponder, and a raging chorus topped by heavenly effects with U2-like scrabble word precision, ready for the light show to begin. My feet were unconsciously moving to the rhythm, but my cerebral cortex just couldn't handle it.
To say that Editors are thriving on having a club dance hit is an understatement. Papillon, generically arranged but with a dark undertone to give it that extra oomph, is designed with this motif in mind, with universal statements such like, um, It kicks like a sleep twitch? Yeah, just appropriate for a nice electro-pop party shuffle squeeze between Kylie Minogue and The Killers. So it's not really a surprise that Editors hinted at this sort of direction before; they just finally got the courage to embrace their inner Euro pop fetish. Certainly, this sort of re imagining hits both sides of the equation, and Editors are here to prove that post-punk and dance can co-exist and spoon beneath a warm blanket.
Instead of extolling their counterparts, Editors were counting on finally searching that elite term they had only concocted but never really achieved: innovation. For this, they regressed even farther to their back catalogue, pickpocketing over some German engineering and drone-inflicted menace for kicks. At least they ascertain a worthy listen for Ian Curtis at his grave with The Big Exit, by far best song in the album. It starts off amusingly: a Kraut inspired, post apocalyptic doom piece that turns into a desperate plea to get what's rightly theirs, featuring a dramatic bonanza of sounds that wouldn't be out of place as a theater piece, which surprisingly fits the simplicity of Tom Smith's delivery. When failing to make an impression from the get go, the second half has turned out to be vastly superior. The Boxer swanks like a subdued 80's inspired beat that sounds like an Ultravox hit beaten to the ground, shattered and deconstructed, giving it a special finesse and swagger rarely seen in previous albums. Like Treasure, the closest to a conventional synth pop tune, is a half decent rock song without the guitars, but once again, is merely a revision better suited for its forebearers, already tightly secured in their time capsule.
When In this Time and on this Evening concluded, a valid question came to mind : why go both extremes? They ditched their wall of guitars completely, which wasn't really a detriment in past efforts. The problem was in the songwriting itself, which proved to be shallow, hurried, and a little heartless. This third effort is trying too hard to innovate by, once again in Editors fashion, obviously borrowing from somewhere else.
Even if In this Light and on this Evening will age like rotten, bacteria-infused cheese instead of fine wine, it doesn't mean that it's not still edible, at least for a while.
13 November, 2009 - 22:04 — Juan Edgardo Rodriguez