Music Reviews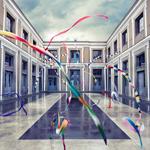 Efterklang Magic Chairs
(4AD)
Buy it from Insound

After spending a couple of weeks in the company of this charming third album from the Danish troubadours, I am delighted to report that the band have finally and firmly realised their multi-layered, dream-pop vision. And what a vision it is. Very often is seems, less really is more.
I'll always remember the first time I heard this group, sometime in 2004, eagerly taking home a fresh copy of Tripper after reading some obscure but wildly enthusiastic internet recommendation. And I loved it from the first skittering beats of Swarming to the final chords of Chapter 6. Haunted by an understated ambience though it was, the record didn't sound like anyone else at the time and stood out a mile through its irresistible quality. Inevitably inspired to a degree by the icy majesty of Sigur Ros, but with a more than a touch of the welcoming warmth of Múm's electronic forays. These guys are going to go places, I thought.
In 2007 came their breakthrough Parades which took the Tripper vibe and injected it with a large dose of grandeur, much expanded instrumentation and subsequently pushed the scope of their songwriting to new heights. For some reason though, it just didn't quite connect on a personal level to the degree that Tripper did. It naturally has many outstanding moments, yet I had the sense they were simply trying too hard. In many tracks there was perhaps too much going on, too many strands to weave together which had the unfortunate effect of discolouring the purity of the songs themselves.
This is not the case with Magic Chairs. Here they demonstrate a heady and mature refinement of their sound into one integral experience, which permeates the listener slowly and skillfully. From the uplifting, spring-is-here-and-life-is-grand emoting of opener Modern Drift, the record evolves at its own pace through admirable use of restraint and knowledge of sound that can only come with experience. Here are ten equally superb examples of truly modern pop music. This is music that is thoughtful and cleverly arranged and yet is able to deliver the simple messages at its core without fuss or bloated and unnecessary protractions.
Casper Clausen's voice has grown into its own; proud and instantly recognizable. Whereas in the past he was content to keep a lower profile, assigning more duties to backing vocalists, on Magic Chairs his voice stands out strong and at the fore, reaching higher and sounding frankly gorgeous. Take the swaying beauty of forthcoming single I Was Playing Drums: stripped down verses let him take center stage and hold the reins of the song himself, rather than relying on the instrumentation, and then guide it to a trembling emotive climax. Following the stripped-down direction of the music, his lyrics display a charming heart-on-the-sleeve sensibility that lifts the music higher and pushes its scope further: "Why do they keep you here? Why do they keep you, 'til the mind will forget/One in a million tears, tracking the monsters that the eyes still forget."
That the record plays out so consistently and yet flows with such apparent ease is testament to the skills honed by the band since its inception back in Copenhagen in 2000. With the core members bolstered as ever by long-time collaborators, here again the multi-talented Peter Broderick's soaring violin provides an extra dimension while his sister Heather's delicate backing vocals complement rather than distract from Clausen's lead. Scandinavian Love, perhaps the grandest track on display here, contains definite remnants of the Parades sound yet is imbued with a loose, playful nature that is predominantly down to the superb vocal interplay.
The record closes with an utterly absorbing double-hitter. Mirror Mirror, with its plaintive opening ("This world is for the birds/I want to wake without trying."), builds to a triumphant, sweeping finale, and is followed by Natural Tune's hopeful, future-facing lullaby. "Heading back, heading straight" sing the pair and all at once the album is rendered complete; a cycle made whole, a journey taken to its final destination. Thankfully, it's one that you will want to repeat again and again.
1 April, 2010 - 12:42 — Jody White