Music Reviews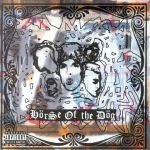 Eighties's Matchbox B-Line Disaster Horse Of The Dog
(No Death Records)
Buy it from Insound

It may be brief but the debut album from Brighton based noise merchants The Eighties Matchbox B-Line Disaster will linger in your memory for much longer than its 26-minute duration: the unsettling opener Celebrate Your Mother alone will see to that. As frontman Guy menacingly screams "I wanna fuck your mother / it's a dirty job but someone's got to do it well" it soon becomes clear that EMBLD are not your average punk rock band.
The album progresses at a relentless pace, and while diversity may not be EMBLD's forte, aggression certainly is. Tracks like Giant Bones and Chic Ken highlight their obvious strengths and if only the rest of the set could match them, then maybe the lack of variety wouldn't be such a problem.
If nothing else Horse Of The Dog highlights the potential of The Eighties Matchbox B-Line Disaster. While nothing here could be regarded as a failure, it is all too clear that EMBLD are one or two tracks short of a genuinely impressive debut. My advice: buy the single and keep an eye on them. They might not be the finished article yet but who knows what they'll have in store for us next time round...
14 September, 2002 - 23:00 — David Coleman