Music Reviews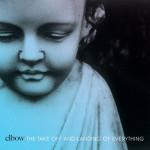 Elbow The Take Off and Landing of Everything
(Polydor)

The post-Britpop rise of the early 2000's was both an asset and a disadvantage for then struggling Mancunians Elbow, who were suddenly paired against a cast of thousands simultaneously trying to prove that Kid A was the worse thing to happen to commercial alternative rock. The competition was fierce, especially for those who only had a pearly chord progression and a wistful voice in their arsenal. That Elbow were the grumpy, perennial drunkards of their class gave them a slight edge, only because the dreary languor of their debut Asleep in the Back steered clear of the woeful sensitivity by the likes of Starsailor and Snow Patrol. It took some time for Asleep to get the acclaim it receives today, having been met initially with lackluster enthusiasm for its pronounced self-loathing and lengthened, despondent balladry. Which wasn't their fault, but a sign of the times - the exuberance of the garage rock revival proved Americans were having all the fun and everyone wanted in on the party.
That Elbow managed to survive through every conceivable genre prefix and suffix proves they weren't feigning their sadness - the euphoria of a night of escape eventually wanes, and they were there to comfort you with a cushiony pillow to drown those sorrows. Elbow are particularly exceptional at evoking ordinary instances of life with keen perspicacity. They've softened a bit throughout the years, and expectedly so, seeing as they've been gradually moving outside the usual domain of mope rock to create a more delicate and precise sound that comes as a result of their aging years. But that doesn't mean they've watered down their delivery - frontman Guy Garvey has maintained a growly, yet emotive vocal delivery that sounds just lovely, even when he's voicing biting remarks against the Bush legacy and politicians like Geoff Hoon in Leaders of the Free World, or illustrating a moral parable in a song like The Loneliness of a Tower Crane Driver. Their flirtations with anthemic connectedness were quite apparent in their last release Build a Rocket Boys!, but it never felt like it was at the expense of abandoning their poetic sensibilities.
Seeing as the members of Elbow are fast approaching middle age, there's a prevalent air of resigned acceptance and openness in The Take off and Landing of Everything. Which actually links together with the more sonically overcast ambiance of the album - there's a faint ray of light seeping through the haunting organ drift of This World Blue, turning into a funereal symphony in Changes, where Garvey goes to his usual point of refuge except his surroundings are a bit different: "I am the die hard with an empty dance card propping up a young bar". The gentle hypnotic textures of Changes are a modest revelation, a reminder that Elbow have a deft hand at raising habitual images with striking and dramatic effect. Garvey proceeds to treat himself with angry repentance in Fly Boy Blue/Lunette, rambling a series of disconnected thoughts as he vies for "a bottle of good Irish whiskey"; the song itself contorts into an epic suite made up of free-jazz bass squeals and rubbery bass strokes until it cools down into an expanded cadence where Garvey muses: "I'm reaching the age when decisions are made". As far as songs with more than one section goes it's more Need You Tonight/Mediate than Paranoid Android, transitioning from madcap dissonance to a more structured, sedating chug.
Of course, it wouldn't be an Elbow record if it didn't intend to deliver spine-tingling moments of sublime beauty. My Sad Captains is an ode to his friends in the form of a hymnal, the kind they've been perfecting since Grace Under Pressure, its regal horns and "oh my soul" chants spiked with a tinge of bittersweet melancholia. There's the winding, subtly psychedelic title track, which is locked into a lush, blissful groove for the entirety of its seven minutes, earning its moment of stadium-raising triumph without ever resorting to shameless pomposity. All these stylistic shifts are surprisingly cohesive and inventive throughout, presenting spacious, evocative pieces that are characteristically understated and uniformly bounded like most of their efforts. The same cannot be said for New York Morning, though, which is a delightful song in itself - those soaring, call-and-response vocals are certainly latter-day Elbow, with a grand, affected chorus ("Oh my god, New York can talk/somewhere in all that talk is all the answers") that can sound quaint, though it comes across as faceless when compared to the more exploratory touches found throughout the album.
A work of faultless skill and assured sophistication, The Take Off and Landing of Everything positions Elbow as one of the most quietly ambitious and rewarding acts of our generation. It's true that they'll forever be perceived as overly intricate and studious songwriters, congenial blokes who are aging gracefully and with nary a scandal to their name. That's the fate of any band who goes about their career unspectacularly. But right as they're about to reach a healthy level of comfort and accessibility, they've decided to scale back on the anthems without losing sight of all the elements that earned them copious amounts of fans in their past two efforts. Fifteen years after their debut, Garvey and his cohorts haven't really changed much - they're the kind of people you see everyday at the local bar, sitting in their bar stools with distant glances, enjoying their reliable brand of liquor. Unchanged, but wiser. Challenging and expanding their craft in the day time, enjoying life's everyday pleasures in the night time. It's a much necessary balance, a practice that rock stars with bloated egos seem to forget when they convince themselves they've peaked.
11 March, 2014 - 04:33 — Juan Edgardo Rodriguez