Music Reviews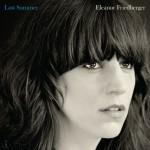 Eleanor Friedberger Last Summer
(Merge Records)
Buy it from Insound

The "solo record" is rather dangerous territory, especially when you're Eleanor Friedberger and you're stepping out from a band as unpredictable as the Fiery Furnaces. As soon as you thought they'd veer towards the pop aesthetic they so gleefully subvert, they released a record like 2005's Rehearsing My Choir, an avant-garde collection of stories narrated by the Friedberger siblings' grandmother. And despite some wonderfully inventive pop records, their last offering was Take Me Round Again, an album of covers of, er, Fiery Furnaces songs. It was easy to miss the point. As a result, they've been missing out on indie buzz for quite a while now. So I'm surprised and delighted at how brilliant Last Summer is.
It's unabashed summer music at a time when, regrettably, a lot of recent "summery" indie music has been wantonly simplistic: Best Coast, Wavves, and Tennis are all making careers out of a few fuzzy power-chords and that "dum ta-ta dum ta" drum beat on every single song. But Friedberger manages to be laid-back and sunny without subscribing to this sort of reductive paradigm. The songs still fit comfortable pop structures, but with more ambitious intentions, building from something modest to some glorious culminations, like the sweeping strings of Roosevelt Island, the jazz-fusiony sax solo of My Mistakes, and the horn fanfare of Heaven.
But it's not just a summer record, it's also a nostalgia record – if such a thing can be said to exist, Last Summer is a great example. The songs are full of references to New York, stories of memories of the city. Owl's Head Park recalls a day spent building a bicycle out of old parts, and the one remaining photograph of the day. Perhaps one could use the idea as a metaphor for Friedberger's creative process, as she recycles elements of older pop songs, making something characteristically new, forward-thinking. She throws back to decades-old pop hits and soul singles; it's full of doo-wop vocal harmonies and funky bass. I Won't Fall Apart On You Tonight in particular feels like it could be a cover of a Northern Soul classic, inflected by Friedberger's quirky synths and pedal effects.
None of this sounds out of place though; Friedberger manages to employ rather unusual instrumentation that fits the feel of her songs so well you don't notice how odd it is. The layers of effects on the record sound quite idiosyncratically Friedbergerian, in spite of the fairly simple piano & guitar accompaniments – the arrangements benefit from avoiding the excessive approach that Fiery Furnaces tended towards. Her vocals, as ever, have a uniquely sung-spoken lilt, as if she's anxious to cram her lines with as many syllables as possible. You'll either find her endearing or irritating; a couple of missteps (Glitter Gold Year, Inn of the Seventh Ray) undeniably sway closer to the latter. While the flaws of Fiery Furnaces are minimised on Last Summer, I can see why you'd find aspects of the record off-putting.
But I certainly find it enchanting. This is a charming record with so many standout tracks, that in spite of the divisiveness of the Fiery Furnaces, it would be difficult to really dislike this solo effort. It sounds at once old-fashioned and contemporary, undemanding but clever – a joy.
8 July, 2011 - 07:32 — Stephen Wragg