Music Reviews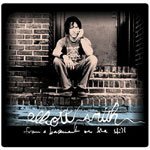 Elliott Smith From a Basement on The Hill
(Domino)
Buy it from Insound

Listening to a posthumous release is a process that cannot help but be loaded with inquiry: the need to draw together fragments of words and tone into a coherent whole that illuminates and makes sense of events; the need for resolution; some cathartic envelopment maybe; the desire to know/relate to someone; touching a life from a distance without giving or chancing in return...it gets complicated. Then there's the review: the temptation to add to the mythology or to pull on the heart strings; to provide for those seeking to flesh out the story; to ignore the events surrounding Elliott Smith's sixth album completely, thus making a statement without saying a word. Maybe even mention jamming along with Jimi in Heaven's house band or some other god-awful bollocks. There's no ignoring the 'evidence' and there's no way to wrench the album free of them, to isolate the songs from history. On the contrary: there's going to be ruminations over From a Basement on The Hill from bedroom to broadsheet and every point in between, and there's no denying that songs as open and emotionally exposed as Elliott Smith's will encourage such connections. I wasn't going to review the album with Elliott's death in mind, but this is impossible. This said, it's equally impossible to construct anything concrete from a CD recording of a recording of a musician who lived a life unrecorded between his songs. So here's what the music sounds like.
Elliott Smith viewed this album, originally supposed to be a double, as his White Album. The comparison works in that the acoustic songs (Let's Get Lost being a prime example) have the restless melodic wandering found in Blackbird or Mother Nature's Son, whilst Coast to Coast and Don't Go Down have parallels with Lennon's more abrasive input. In terms of experimentation, however (something which the link hints at), there are a few birds tweeting and the occasional backwards guitar, but the whole thing feels much less fractured. The West Coast dynamics of Figure 8 have been jettisoned in favour of a dirtier, home-produced feel, and whilst there are anthemic/pop moments in common with XO and the last album, the mood is generally closer to an experimental Either/Or (Twilight, A Fond Farewell). The good news is that there is no real filler on the album, but this uniformity of quality equates to an album where every song is good, but where few are really great. For example, Don't Go Down, The Last Hour and A Fond Farewell don't get the choruses that the finely crafted melodies of their verses deserve, and elsewhere there are songs that, despite their prettiness or charm, don't represent Smith at the peak of his craft (A Distorted Reality..., King's Crossing).
If this sounds overly negative, bear in mind that Elliott Smith's back catalogue is the benchmark for such criticism. Figure 8 and Either/Or had as many truly great peaks as troughs after all, and it's easy to forget that Elliott's popularity rests on creating a sizeable cache of classic songs and not on releasing a string of classic albums. Your favourite Elliott Smith song isn't going to be on From a Basement on The Hill, but from start to finish it's his most consistent work yet, and each song shows just how melodically gifted Smith was as a songwriter. If that sounds like I'm damning with faint praise then I'd better add that I've had the album for three weeks and I still listen to it almost every day. From a Basement on The Hill has been a long time coming and I can't say I didn't hope for more, but I didn't expect less, and this is no disappointment.
25 November, 2004 - 00:00 — Pat Harte