Music Reviews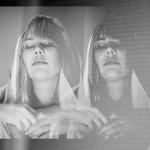 EMA Outtakes from Exile
(City Slang)

Last year's Exile In The Outer Ring was a complete, excellent statement about the lives of those on the edges of modern society. But such a distinct theme left little room for songs that didn't fit in. On the Outtakes from Exile EP, EMA puts together a few strong tracks that may have missed the cut, but are definitely worth a listen.
A couple of these songs continue mining the tones EMA assembled for last year's album. MopTops (Twist While the World Stops) combines harsh guitar tones, a slippery bass and some siren synths. While the twist and moptop haircut look back at the threat of Cold War nuclear annihilation, EMA relates it to today's growing tensions between the U.S. and North Korea. Anything Good shares the same cutting strings as Down & Out, but that's where the similarities end. It's another track of high-pitched distorted guitar and bass grooves. But it takes off in its last minute as EMA's shout of "no" echoes back dozens of times over and she ends crying out "Please see me."
Some songs find EMA stretching her sound out in new and unexpected ways. Dark Shadows sounds like a lost track from Violator-era Depeche Mode, built around dark synth patterns and a simple, heavy-hitting drumbeat. It might be the most danceable song she's ever written. From the Love That We Made slams into you with a massive synth sound. It's like when a T-Rex or Godzilla approaches, causing everything to shake and the horror to build. But then the synths fade out and we're left with EMA's voice and an acoustic guitar, the most stripped back her music has ever gotten. It's an excellent piece that shows her continued evolution as an artist.
The only unnecessary track here is the 20-minute instrumental version of Breathalyzer. It doesn't do enough to earn such a long runtime. For most people, this is a one-and-done novelty listen. But I imagine they'll be a few EMA diehards or drone fans who will enjoy it. For an EP of outtakes, there's nothing wrong with a bit of indulgence!
If you enjoyed Exile In The Outer Ring, you'll find plenty to like on this set of outtakes. It plays out as a bridge between last year's work and the future. EMA is an artist who has grown and changed from album to album. This collection doesn't only contain some great new songs, but builds up excitement for whatever she does next.
6 February, 2018 - 04:30 — Joe Marvilli