Music Reviews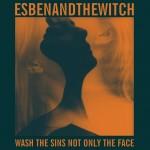 Esben and the Witch Wash the Sins Not Only the Face
(Matador)
Buy it from Insound

The concept of "the difficult second album" is one of the key components of the music critic's toolbox, but what of its close relation "the second album that's a massive step-up from a disappointing debut"? (Presumably it's never really caught on as the name's not so catchy). While, thanks to a press and industry that are overly keen to buzz any potential 'next big thing', the recent history of UK guitar music has been littered with plenty of the former, there have been more than a few high profile exceptions who fall into the second category, and to that group we can now arguably add Esben and the Witch.
Where their debut saw the Brighton three piece in the possession of a considerable amount of ability, a fair amount of hype and an endearingly silly name but not much an idea of what to do with it all, the burst of My Bloody Valentine-alike noise that opens Wash the Sins Not Only the Face suggests that the 2013 model of Esben and the Witch is a far more driven, enticing prospect. That the rest of Iceland Spur intricately weaves Rachel Davies' vocal trills with her own harmonies, as well as guitars that seem to jangle in a pleasantly sinister way, or that a similarly purposeful air permeates the likes of Deathwaltz and Despair, is just a bonus really.
Not that there's anything new in itself here. Wash the Sins is one of those records that's surprising but simultaneously gives you a pretty good idea of what's in its creators' record collections – other than My Bloody Valentine, there are traces of Cocteau Twins and Siouxise and the Banshees (on that similarly monikered note, the pounding percussion and breathless referencing of "Blues and golds and tangerines" in When that Head Splits suggests a kinship with Florence and the Machine, although thankfully without all the foghorn-like yelping), while closer Smashed to Pieces in the Still of the Night has some of the grandiosity, not to mention a guitar sound, of Godspeed You! Black Emperor. In fact, there's not much here that the band themselves haven't tried before; for example, the keening drama of Yellow Wood would have been perfectly at home on their debut, although it would have probably outshone everything around it, but by transferring production duties from outside the band to industry veteran Tom Morris, their songs have been given a significant polish, not to mention more of a sense of coherence.
With that, it must be said, a fair few of the band's previous bad habits have been allowed to resurface. Looking past the trying-too-hard song titles that don't do the content many favours, there's a lack of variety to the album that sees much of it merge together into a misshapen mush, which, it's true could be ascribed to that production work as so much of the album is swathed in gauziness that suspicions start to form that it's to cover up for material that's gossamer-thin (it's particularly hard to summon up the enthusiasm to tackle the wailed philosophical question of 'Is this an answer or is this an echo' in The Fall of Glorieta Mountain). Quite possibly when deciding on their band name, the members of Esben and the Witch were painting themselves into a corner and limiting themselves to merely being gloomy and ethereal, and while they haven't quite found out how to convert that into an entirely compelling experience as an album, Wash the Sins... is still very much a welcome step in the right direction.
7 February, 2013 - 04:13 — Mark Davison