Music Reviews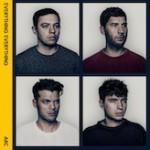 Everything Everything Arc
(RCA)

It may resemble a collage of mugshots from Crimewatch's Rogues Gallery, but the image you're staring at in disbelief is actually the cover of Everything Everything's second album, Arc. Pretty ghastly, isn't it?
To be brutally honest with you, I had been fully expecting to tear into Arc's contents, too, suspecting its lousy art direction was merely the tip of the Manchester quartet's bad decision iceberg. I can still recall my excitement back when early single Suffragette Suffragette marked Everything Everything out as a young band with potential, and subsequently my disappointment when this failed to materialise on their overrated debut album, Man Alive. Yes, it picked up a Mercury nomination, but while others commented on its restless experimentation, I heard the sound of a young band trying a little too hard to be different.
Three years on, Everything Everything's struggle to establish an identity continues. While there are some hopeful signs scattered throughout Arc, these are few and far between. The brightest moment is arguably current single Kemosabe, which strikes a balance that so few Everything Everything songs manage to achieve. Simultaneously effortless and unpredictable, it holds two ace cards in its strong chorus and the wonderful undulating bassline that dances into the mix towards the end of its verses. It's not perfect, the vocals being a perennial weak point for this band, but it's certainly on a different level to anything, say, The Maccabees or alt-J offered up last year. That's faint praise coming from this critic, but it's praise nonetheless.
Alas, for every Kemosabe, there is a Torso of the Week.
After threatening to go absolutely nowhere for thirty seconds, Torso does the unthinkable and unleashes one of the worst opening lines in recent musical history - "Girl you've been hitting that treadmill like a freak". If you think that's bad, you should hear the shaky falsetto in which it's delivered. What Everything Everything apparently still haven't learned is that a fundamentally bad idea can't be salvaged by a few quirky left-turns.
Duet sees Everything Everything flexing their arena muscles, adopting the 'simplicity sells' mantra that has served the likes of Coldplay and Snow Patrol so well over the last decade. It's a sound that suits them surprisingly well, but then again, even Plan B sounded half decent with a cello behind him.
The second half of Arc drags a little, as a band feted for its abundance of ideas seem determined to showcase as many as possible in the remaining time. It feels churlish to criticise Everything Everything for trying different things, but all too often their efforts feel like lightweight flirtations with a style rather than committed explorations. I know it's January and we're all eagerly anticipating the first musical fruits of 2013, but to declare this uneven collection one of them, as many have done, just smacks of wishful thinking.
18 January, 2013 - 09:40 — David Coleman