Music Reviews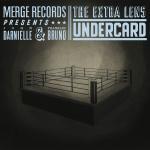 The Extra Lens Undercard
(Merge)
Buy it from Insound

It's almost too easy to fill a review of The Extra Lens, formerly The Extra Glenns, with trite references to the makeup of the band. Yes, John Darnielle — The Mountain Goats, popularly — and Franklin Bruno — of the Human Hearts and Nothing Painted Blue — make up the group, and yes, this is only their second full-length.
That's hardly the point, though.
Undercard, released by Merge Records, is, well, good. It's packed with lyrical endeavors befitting the music, and the musical resonance is masterfully timed alongside a very particular style of lyric. Yeah, you'd probably recognize it as Darnielle without any trouble. This is clearly not a "Mountain Goats-side project," wrapped and packaged with shiny stickers espousing such.
Shall we ignore it? Bruno's obviously not reached the levels of acclaim Darnielle's achieved. Bruno's worked with the man himself — on two great releases, Tallahassee and The Sunset Tree. It's easy to spot the collaborative sound that's been fleshed out a bit before when viewed through the lens (aha!) of the two albums, but that ignores something bigger.
Taxonomically, there's enough here to make it distinct. Anatomically, the whole here is more than the sum of its parts — Aristotle would be proud. Where Cruiserweights glows as Darnielle's songwriting, it's when we're given something new that this album really takes flight. Sure, some of these things we'd expect, but our frail expectations are betrayed time and time again.
In Germany Before the War feels more Waitsian (I doubt this is a real term, but forgive my profligacy,) than it does like it fell onto the lap of John Darnielle, and there are more romps here than there are lullabies. "How I Left the Ministry" takes the cake here, a Pollard-esque sub-2-minute track that splits the album in twain.
I'll be damned. Not only does Undercard not disappoint — there are more than a couple earworms here and there — but it's brilliant and fresh from two musicians who aren't exactly freshmen to the scene.
23 October, 2010 - 21:48 — Matt Montgomery