Music Reviews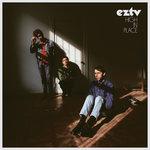 EZTV High in Place
(Captured Tracks)

I could go straight to the chase and describe EZTV's sound as Byrds' chiming mixed with doleful musings from Teenage Fanclub's notebook, but I'd come up short. Fond as I am of those bands, lately there have been too many hipsters mining the same vein. What keeps the guys behind EZTV ahead of the pack is that they are neither folklorists nor journeymen. They're a tight, versatile band that doesn't cut corners, who eschew the impersonal for color and a pounding pulse. At the center is Ezra Tenenbaum, whose songwriting has left behind the lovelorn juvenilia of Calling Out. This time around, the sentimental vision is challenged at every corner by a growing pessimism.
High in Place brims with musical confidence. There's a presence and bite to songs like High Flying Faith and Goodbye Morning that make the first album sound tinny in comparison. For one, the individual and harmony vocals mix is top-notch, something quite rare for a guitar band album. Though these two tracks are semi-acoustic, the multilayered guitars add scale to the production. The guitar solos soar, but florid displays aren't the aim. For instance, Temporary Gold shows the band can move into Americana territory and be as tasteful as a South West band.
The album tracks are about break-up, but the dreadful anticipation carries more weight than the event itself. Racing Country moves gracefully with deep bass lines, guitar dynamics of exquisite ease, and a toe-tapping chorus. For all its vivacity, the song's underlying sentiment is disappointment: "I can't go on, been racing to a stop with you". The feeling is once again handled with sober sincerity on Reason To Run: "I've been knocked around, highest hope let down/You ought to know by now with you goes miles nowhere somehow". There's no coldness in the song's performance; rather, the fear of severing the pair bond is deftly conveyed. As metaphors go, States Of Confusion sums up the album's themes of wanderlust and fear over a track of majestic chords: "For a momentary mile, well it's been this way a while/Face down on the concrete while I dream of wider streets/Thought you would just follow too".
There's growth in Tenenbaum's songwriting. Track by track, the band's intuitive playing supports it, the arrangements giving ample room for expression. Hammock, for instance, is as breezy and carefree as its title suggests. On songs like Still and How Long's It Going To Be, Tenenbaum hones in on the emotion behind the words, and that burgeoning ability as a vocalist bodes well for the future.
The PR notes for High in Place state that the album was recorded on a tape recorder purchased from a studio that was going out of business. It's hard not to see some sort of poetic justice here: the old world crumbling down and young Turks taking over to build new things. Right on, I say, because High in Place is an exciting sonic experience.
29 September, 2016 - 15:00 — Angel Aguilar