Music Reviews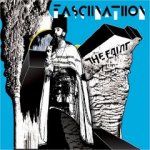 The Faint Fasciinatiion
(BLANK.WAV)
Buy it from Insound

The Faint, departing from the Omaha-based Saddle Creek Records, would seem to be in search of a change: for listeners, that change might not mean much. Fasciinatiion is clearly more music in the basic vein they've been trodding forward in since the release of 1999's Blank Wave Arcade.
Their new label, the band's own blank.wav records – a playful nod toward that band-defining album – may have been created for further financial or creative gain, but much to the relief of their fans, The Faint don't seem intent on switching their musical focus.
This doesn't mean the band has lapsed into a period of non-creativity, though; no, the curiously named Fasciinatiion is a natural musical progression following 2004's Wet From Birth, which, though a bit of a disappointment in some regards, wasn't a bad collection of music. In fact, Fasciinatiion is considerably more engaging, both musically and lyrically; Machine in the Ghost is a nice example of both in play.
It is a bit strange, though: August 5th welcomes two releases one might expect on Saddle Creek: this electronic wonder-fest from The Faint and Conor Oberst's Merge-released self-titled album. Detractors of the label might claim its death is near, but such a hasty claim isn't supported by more evidence than just that – at least, not yet.
Sure, 2008 may see the dissolution of the Omaha label, but it may also simply mean that the label has produced growingly popular artists who may or may not need to find a new home to increase their popularity. It's not clear that either Oberst or The Faint are making financially oriented moves, and it doesn't seem to be the case that Oberst is actually leaving Saddle Creek – unlike his former labelmates.
Fasciinatiion, superficial concerns aside, is refreshing among the waves of ultimately mediocre dance rock hitting shelves: it's a piece of genuinely interested electronic rock with an eye toward creating interesting melodic and countermelodic structures and, of course, sonic textures. Fasciinatiion might not be the biggest innovation in rock music since Revolver, but it does hit the right notes at the right times – and for the right reasons.
All told, The Faint, once again, have written a succesful album. It's certainly a better listen than Wet From Birth, and it stands up well next to Blank Wave Arcade and Dance Macabre.
30 July, 2008 - 07:03 — Matt Montgomery