Music Reviews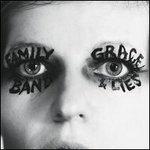 Family Band Grace and Lies
(No Quarter)
Buy it from Insound

When Family Band released their first works back in 2010, one of their EPs was named Cold Songs. That title may seem apt for their brand of industrial goth, but such a label would trivialize the layers found on Grace and Lies. Although the union of visual artist Kim Krans, ex-metal guitarist Jonny Ollsin, and bassist/lap steel guitarist Scott Hirsch leads to a dark record, moments of nimble instrumentation accentuate the light as well. Opposites attract and create a rich, rewarding album that manages to be both comforting and uncomfortable at the same time.
The LP begins with the deep drone of Night Song, sounding like thunder slowed down a thousand times over. A warlike drumbeat shutters through the speakers while Ollsin's icy notes splash down around it. In the middle of this suspenseful track comes the haunting croon of Krans. Her voice is ghostly, desperate, and a little detached. But this only makes her presence more captivating. You can see her standing in an abandoned house, water leaking from the ceiling and a distant look in her eyes. It feels claustrophobic, but there's some relief to be found from the raindrop guitar pattern.
Krans' emotions and characters seize your attention in a way many vocalists rarely manage. In Lace, scratch guitar sulks through the background as she becomes a seductive lover, promising to "take you home tonight/ as though you have no weight upon your back". The snappy percussion and the echoing chord strums of Moonbeams make it one of the lightest songs on the record. Even then, there's a sense of longing and sadness coming from Krans. She wants to be with her lover but she needs to hear his "wondering sound". The two aren't compatible and she reaches a despairing wail from being pulled in opposing directions.
Although her singing is enthralling, Krans doesn't take up the spotlight completely. Ollsin and Hirsch lay down the groundwork for her lyrics with a spectrum of troubling sounds. The guitar pattern in Keeper is low-key and muted, except for a few ringing notes at the end of each line. These tinges add a little bit of hope to words like "I aim to please you/as I have not before this time". Rest is a bleak and sprawling eight-minute closer, thanks to the competing electric and acoustic riffs that build upon each other. They produce a growing storm, the sky growing darker and darker as the track goes on.
The only flaw found here is when things become stripped back to just an acoustic guitar and vocals. Although it works on the foreboding Ride, the simplicity does kill a bit of the ambiance that dominates the rest of the record. This is especially true in the case of Grace & Lies, in which Krans mostly repeats the title while a melody is picked out in the background. It doesn't fit with the tone of this record and feels like filler.
Grace and Lies is at its best when opposing ideas collide into each other. The pieces that manage to stick make up an ominous atmosphere that still has hints of softness and beauty. The combination of Ollsin's subdued, almost frozen guitar and Krans' alluring yet unsettling voice makes for an entrancing world to get lost in. It's a world of contradictions that stick together. Warmth and cold. Light and darkness. Grace and lies.
2 August, 2012 - 06:20 — Joe Marvilli