Music Reviews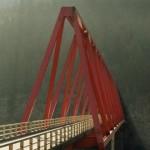 Fanfarlo Rooms Filled With Light
(Atlantic)
Buy it from Insound

The most perplexing thing about Fanfarlo's 2009 debut, Reservoir, was that it was in fact the band's debut. Reservoir maintained a deep sense of dignity and grace amidst its baroque-pop songs, as well as the feeling that these band members were much older than they were. Instead of a debut, it sounded like the result of a band that had been steadily recording and touring for nearly a decade. One gets a sense of a worldly, well-read, and experienced band of multi-instrumentalists. Maturity, as well as the undeniable gift of indie legend Peter Katis's production (The National, Frightened Rabbit, Interpol) made Reservoir an album to be regarded as an instant indie classic.
The question lying at the closing seconds of Good Morning Midnight was always, "where to from here?" How can a band who has mastered their craft as early as their debut expect to woo fans with a follow-up? Repeating the formula brings the "one-trick pony" criticism, and straying too far from that sound could alienate the original audience.
I saw Fanfarlo play a show in a small indie bar/venue in Phildelphia a few months ago, and my first impression was that without Katis's brilliant production, their sound was somewhat lightweight and hollow. Front man Simon Balthazar's voice lacked the conviction I'd found so endearing on Reservoir. The mysticism of their songs was replaced with a five members who were talented, but lacked the craftsmanship I had come to expect from the band.
My first indication of Fanfarlo's new direction was in the album credits: the producer for Rooms Filled With Light is Ben Allen (Animal Collective, Bombay Bicycle Club). While I did not know what to expect from this pairing, it soon became clear that the sound of Fanfarlo's newest more closely resembled their live sound. This is to say that Fanfarlo have collectively gotten younger, ditching the maturity of Reservoir for a more 80s-inspired indie pop record, reminiscent of early Talk Talk and The Psychedelic Furs.
Rooms Filled With Light is not ashamed of its upbeat, pop tone. Strings and horns still adorn much of Fanfarlo's sound, but are not as sweeping as they are rhythmic. Their presence on Deconstruction and Tightrope are as much a part of the rhythm section as the bass or drums. At the same time, their presence is just as necessary for the melodic harmonies of the song as they were on Luna from Reservoir. These two songs also boast the most upbeat tempos on the album, making them obvious choices for singles (Deconstruction was already released as a single back in the fall). With the pulsing drive behind Deconstruction and the subtle harp embellishments on Tightrope, there's really nothing to dislike about these songs.
The major difference between Rooms Filled With Light and Reservoir really comes down to the overall peppiness of the album and the production. Ben Allen, often credited with introducing bands to more electronic textures, lives up to his reputation. A song like Bones features a drum machine, dominantly for the first two minutes. This sounds standard for most indie bands with an imagination and money to spare, but Fanfarlo's reputation has stood on the image of five intelligent English musicians experimenting with violins and French horns – not synthesizers. Regardless, the incorporation of electronic sounds, which can be heard on nearly every song, is done elegantly and sparingly.
Overall, while I'm letting down my critical need to gnaw at some poor indie group, there is not much to be said against Rooms Filled With Light. No, it doesn't have the same timeless and mystic appeal as Reservoir, but really, was anyone expecting that it would? Fanfarlo are now creating music that is more fitting of their age, complete with indie pop formats and an unashamed love for 80s college rock. As always, the modern indie influences are prevalent, with Balthazar sounding much like Win Butler on Replicate, and the multi-instrumentalism of Tunguska is very reminiscent of Dirty Projectors. For Fanfarlo, this is a follow-up that does all that it needs to do. It keeps us critics and fans happy with a healthy balance of familiarity and expansion.
13 March, 2012 - 12:17 — David Hogg