Music Reviews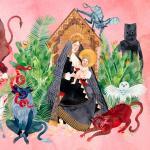 Father John Misty I Love You, Honeybear
(Sub Pop)

J. Tillman is a self-aware heartthrob, a rugged, imperious man who's convinced he's the ultimate specimen for breeding. But here's the punchline: he's also the kind who'd ridicule you for objectifying him in such a simplistic manner. In truth, he's a jokey pragmatist, one who's unafraid to shit on himself in a first person narrative without the slightest apology. That vulnerability he portrays is in many ways a farce, and it isn't, alluding to an artificiality that ultimately takes a life of its own. Those bent half-truths are his way of being sincere, which can reward if you commit to his wordy fiction without having to scrutinize every motive he presents.
It took many years for Tillman to fully embody the Father John Misty name, an opportunity that was presented to him shortly after going through a bored, listless period as the drummer of Seattle's much-beloved Fleet Foxes. But as with anyone who plays second fiddle, it was simply a means to escape monotony, of doing something, anything, because there's nothing else to do. It seemed like a good idea at the time, not to mention that Tillman's sensibilities as a writer aren't as distinct from the Fleet Foxes - he shares Robin Pecknold's taste for canonical poets and an uncanny ability to deeply observe the failures of the human condition. Where these two don't see eye to eye is purely in execution: whereas Pecknold is tenaciously serious about his craft, Tillman finds amusement in the consciousness of one's own frailty.
Things began to turn around for Tillman once he made the move to Los Angeles, Laurel Canyon of all places, a safe haven for bohemians to find their inner Joni Mitchell or Graham Nash. Even the fact that he landed in Laurel Canyon, having mistakenly thought it was the calming desert of Topanga Canyon, was like a sick ruse of cosmic proportions. Of course, there is no such thing as a right or a wrong choice, and it was in a parking lot close-by where he met Emma Garr for the first time, the main inspiration for his latest I Love You, Honeybear. One of their nights together is vividly documented in Chateau Lobby #4 (in C for Two Virgins), in which Tillman applies the analogy for their first sexual encounter as experiencing true love for the first time. Thus begins Tillman's rehabilitation, and Fear Fun track Everyman Needs a Companion suddenly becomes a divinely inspired prediction of his current standing in life.
The chronology of Tillman's courtship with Carr may not be entirely accurate, but leaving it to conjecture only makes Honeybear a more engaging listen. It also serves to note that Tillman's biting wit still shines in presence, like in The Night Josh Tillman Came to Our Apt., where instead of romanticizing his partner he picks on her use of solecisms and misfired attempt at sounding like Sarah Vaughn while they sing Silent Night with another woman in three-part harmony: "I hate the soulful affection white girls put on/Why don't you move to the Delta?" That the track alludes to erotic asphyxiation while lush, A Day in the Life-resembling strings play in the background only reinforces Tillman's warped sense of dichotomy.
Tillman criticizes himself severely, and calls himself "aimless" a few times throughout Honeybear, but within all the unsparing remarks there's a dutiful romantic waiting to swoon his mate with a sweet song. In Strange Encounter, he has an internal conversation as he tries to save his lover's life. He's at the presence of one of these near-life experiences where everything suddenly becomes a blur, and swears to change his act for the better. It's the one moment in the album where the opulence doesn't feel contrived, and though the question of mortality is of utmost importance, what carries more weight is his own sense of responsibility. He constantly answers to himself, and in The Ideal Husband, goes from one bad deed to the next, but with stern assurance that he's really got this thing called adulthood finally figured out: "I said, Baby, I'm finally succumbing / Said something dumb like I'm tired of running."
Tillman makes every moment count, essential even, trying to make sense as his thoughts wander beyond the boundaries on reality. But he seems rather focused in album standout Bored in the USA, in which he addresses the troubling unease of growing old as part of a generational bracket who's really had it hard; as opposed to an optimistic millennial, he worries about dealing with organized politics, burdened by student loan debt and prescribed medical dependency. "Save me, President Jesus", he cries with vitriolic irony as a mocking laugh track interrupts his plaintive piano rendition. You almost forget this is the same guy who struts and spouts crude, debaucherous humor in a dry tenor onstage.
Tillman becomes one of the great diarists of our generation in Honeybear, possessing a keen, merciless intelligence within a sophisticated melodic sensibility. We witness a man who's beginning to understand his place, riddled with the kind of worries that only become more complex when you least expect them to hit. Despite the grand, splendid arrangements, which dazzle with a theatrical sweep, the stark cynicism and almost overwhelming humanism of Tillman is beckoned in such an unorthodox manner that you simply don't know what to make of it at first. He's a rare breed in the singer-songwriter realm, and even more so in the current wave of ham-handed, seventies-inspired pop-rockers that's very much in vogue.
But within that black-hearted composure lies a tender soul, and album closer I Went To The Store the Other Day is played with the finger-picked delicacy of a husband who's singing to his wife about that first day they met. It's a simple, lovely finish after having descended into a messy morass of true self-examination. In the end, love is what sustains it all, in all its glorious and inevitable decay.
10 February, 2015 - 04:36 — Juan Edgardo Rodriguez