Music Reviews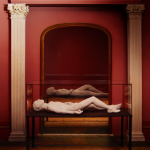 Fear of Men Loom
(Kanine)
Buy it from Insound

Fear of Men often get cited more for their coy art-school affectations than their musical efforts, which is moreso a presentational modality than anything else. Akin to the gloom-and-glamour of Dee Dee Penny's excursion into French writers like Anaïs Nin and Arthur Rimbaud in her recent effort, Too True, the Brighton trio were deep-thinking students who, for some inexplicable reason, thought that starting a band would make a fitting art school project. Not to say that expressing intellectualism through simple-minded indie pop songs is currently bucking a trend, but Fear of Men have surely exceeded at interjecting their art into a commercial concept - from the Hellenistic sculptures that adorn their album covers to recreating works by Marina Abramovic in the promotional cut for the song Luna, it's safe to say they've graduated with high distinction.
Fear of Men examine their thematic motifs through open-hearted, often fraught, lyrics that reflect egoistic behavior fostered by obsessive desire. Instead of leaving art as a matter of perception, vocalist Jessica Weiss is quite explicit in her despairing declarations. A lulling drone surrounds album opener Alta, in which Weiss expresses in quiet soliloquy ("Baby/sleep with me now/Baby you're my only friend") before it suddenly darts into the echoey, yet bright urgency of Waterfall. "Our lives contracted/I'm not alone in this", she repeats with forceful, emphatic firmness as the song descends into a delicate flourish of swelling strings. It highlights their zest for stimulating pop melodies, which was hinted at but not specified on their undercooked compilation Early Fragments.
Loom proves that Fear of Men have grown as songwriters, channeling those poetic impulses with dramatic verve without lapsing into wretched sentimentality. Having futzed with vague distortion in Fragments, it seemed as if the band were aiming to bring to the fore a more fragile version of muscular nineties dream pop acts like Curve and Lush. They do layer their instruments with the same precision and form, but there's a newfound clarity that elucidates their primal approach. The unfeathered mid-tempo rush of Tephra sounds murky and somewhat underproduced, its belligerent snare fills and arpeggiated chords positioned front and center, yet Weiss' wispy vocals resonate with a fullness that unravels her unique, lush delivery with aplomb. The components Fear of Men work with may be minimal and straightforward, like in the chiming bounce of Descent, but there's no shortage of dazzling intuition in its subtle embellishments to compensate for its rather monochromatic scheme.
It'd be intriguing to hear how Fear of Men expand their rhythmic palette with succeeding releases, but as it stands, it's the combination of Weiss' abstract musings offset with their stirring ambient textures that give these songs an uneasy, yet powerfully palpable chemistry. There's the use of morbid imagery in haunting ballad Vitrine, as Weiss is torn away from a physical plane ("How can I say what I mean in a vitrine?/shadows are swallowing me"), seeking validation even if the connection is distant, possibly tenuous: "Tell me that you're perfect still on the surface/but it's happening underneath". But this dichotomy of beauty and threat is most apparent in their six and a half minute piece Inside, in which they flesh out their pop leanings to the fullest by ending with a strapping coda that becomes increasingly dissonant before it ends abruptly, Weiss musing with a menacing calm: "I convulse in bed at night/for fear of falling at your feet/I could hurt you easily/give up everything".
Loom seems to touch upon many periods within the extensive annals of indie pop, but Fear of Men put their own stamp with smart, modish pop tunes that intend to make sorrow, in the face of uncertainty, sound invigorating. Rarely do albums that fall within this realm carry the momentum to form a formidable album experience, instead falling into the trap of confusing pep as being essential. This usually creates the effect of an impulsive, and ultimately unmemorable listen, and though their shimmering, infectious guitar assaults are easily likable they do carry an indelible amount of heft when listened to closely. These are love songs that are off-kilter not in design but in character, furnished with ornate instrumental touches that add more panache to their simple, yet shrewd approach. It captures the ears in all its wounded release, and like any vulnerable masochist, it begs you to come back for more.
21 April, 2014 - 04:40 — Juan Edgardo Rodriguez