Music Reviews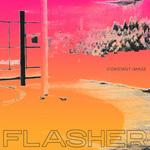 Flasher Constant Image
(Domino)
Buy it from Insound

Flasher connect ideas, both abstract and concrete, on Constant Image. It's with this implied tension that the Washington, DC trio operates, where every loose thread means to align their nervy compositional chops. There is a need to emphasize movement through its glinting, new-wave flashes, though, a more upbeat tone that enlivens its otherwise rhythmic discordance. We've seen post-punk go through something of a resurgence, and just like U.K. trio Shopping, Flasher combines a punk ethos with jolting grooves.
Except that Flasher, as opposed to Shopping, have a broader, fuller sound the goes beyond post-punk's homespun simplicity. The trio's recent single, Pressure, pulses with a bass bob and a spindly guitar part as they urge a perturbed someone to shake off their inner self. The similarly urgent Skim Milk encourages self-nourishment - as it equally considers the problematic nature of empty wish fulfillment - as it leads into a loopy outro that could've snuck its way inside The B-52's Wild Planet. But Flasher don't just pulverize listlessness through forceful, yet animated swagger. Some of their stylistic musical choices take some unexpected curveballs - the phased-out Punching Up merges space rock lines with whispered vocals - a clever imagining of a punkier Chapterhouse, if you will - while the stunning album opener Go kickstarts Constant Image's theme of pushing forward with a gauzy guitar rush akin to Britpop's dying days.
On Constant Image, Flasher give out a hopeful pep talk within its lurching contours, yet they never overthink the inevitable outcomes. Sans for the underwhelming middle run, composed of the more straight-ahead spastic rockers XYZ and Who's Got Time?, the trio finds new ways of communicating their noise-addled anthems. Flasher may have the attitude of their eighties DC counterparts, but they ultimately channel their thinking person's punk aesthetic by attempting to rewrite its traditions altogether.
11 June, 2018 - 04:14 — Juan Edgardo Rodriguez