Music Reviews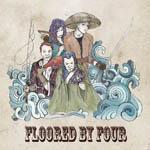 Floored By Four Floored By Four
(Chimera Music)

My first exposure to Mike Watt was via The Minutemen compilation, The Politics Of Time, which save a few tracks, was a crudely assembled and at times indecipherable mass of live recordings and lackluster studio jams. The album angered me when I'd heard it, though there was some saving grace to the fact that the liner notes instructed the listener to "note the quality of the recording" for the song Fanatics, which was a badly rendered live dub. That sort of acknowledgement was enough to at least leave me with some intrigue left for the band, so once I'd heard What Makes A Man Start Fires?, I was happy to have acquired a taste for The Minutemen, and a subsequent fascination with Mike Watt.
Watt is a learned artist, a taste junkie with jazz hands and hardcore roots. Having just been the Dave Alexander-for-hire during The Stooges' reunion prior to Ron Asheton's passing, for 2010 Watt has released his third round of minimalist rock opera music dubbed Hyphenated-Man and his latest group effort: a self-titled, four-song jazz fusion suite by Floored By Four.
Designed around the names of its contributors, Nels Cline (Wilco), Yuka Honda (Cibo Matto) and Dougie Bowne (The Lounge Lizards), Floored By Four follows Watt's eccentric vision and well-established penchant for the avant-garde, (I mentioned this album to my brother over casual conversation and his response was, "That's SO Mike Watt.")
Taking cues from Miles Davis, Sun Ra and Booker T. Jones, Floored By Four ambitiously combines their own varied niches into one spacey, rough edged and DIY-accented concept, one that freely enjoys some light-hearted instrumental R&B (Watt), but then mixes wisps of Sonic Youth with King Crimson progressions (Yuka). The ideas that Watt incites are strange enough to work and rarely collapse under the album's scope. With Dougie, twenty-minutes of quiet and murky bass rhythm can be deadly, (this song could easily be a mashed homage to Miles Davis' Feio and There Are Other Worlds (They Have Not Told You Of) by Sun Ra), but it moves well enough to avoid dullness and the cosmic waves of Honda's synthesizer craft playful variation on the song's simple foundation. Cline sounds like he's playing guitar with a violin bow, snake charmer melody.
Nels, though, is the album's draw, Watt's low end a sort of punk noir that walks with metronome reliability while Cline generates high pitch squeals and Bowne lets his hi-hat ring. Garage and jazz sensibilities in play, you can tell within the first couple minutes that Floored By Four's dynamic will result in something worthwhile, which should be obvious if you know enough about their source material.
19 October, 2010 - 02:35 — Sean Caldwell