Music Reviews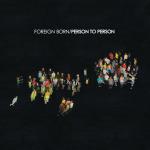 Foreign Born Person to Person
(Secretly Canadian)
Buy it from Insound

It's not a wonder to me that Grizzly Bear's Ed Droste is a huge Foreign Born fan, having them open for a few of their shows early this year. It is a wonder to me, however, that Grizzly Bear is enjoying the success that they currently are while a band like Foreign Born remains much more obscure. Despite (or perhaps because of) their 2007 appearance on NBC's Chuck, Foreign Born has not achieved the indie stardom they truly deserve. The more attention I pay to the music industry, the more perplexing it becomes. Person to Person, their sophomore album, is an absolute gem from start to finish, and is far more promising than their somewhat forgettable debut On the Wing Now.
On the addictive album opener, Blood Oranges, Matt Popieluch's voice melts and fuses with the guitar before the deep, harmonious backup vocals join in, allowing the song to drift toward a powerful end. His voice is both throaty and flighty, invoking somehow both Hamilton Leithauser and Jeff Tweedy. Vacationing People is barbed with sweet guitar twangs and blossoming horns, reminding me of some of Beulah's most successful songs. Winter Games gives us an alt-country number as trouncing, playful, and breathtaking as anything on Wilco's most recent release. After their first album, Foreign Born were frequently compared to U2 and Arcade Fire, but Wilco is a much more apt comparison. Their sound is very familiar but definitely not overly derivative.
Every song on Person to Person is both intricate and pounding, driven but dissectible. Each part of the whole is deliciously distinct, as far as the incredibly varied instrumentation goes. The lyrics, however, are very difficult to make out. I will admit that I'm guilty of never really listening to lyrics. If I happen to learn the words to something, it's because I've heard it so many times. As a fiction writer, perhaps I should care more about lyrics, but lyrics will never win me over if I hate a song, and bad lyrics will never stop me from completely loving a good song. And since these are all great songs, it's not bothering me too much that Googling their lyrics has so far yielded nothing. The African highlife inspired Early Warnings shifts from a prettily picked ditty to a darker ode to fading memories. This album has frequently been called front-loaded, and that's true, but the slower songs that close the album are by no means dismissible. The sleigh bells and harmonica combo of It Grew On You is downright haunting. My biggest complaint is the seemingly abrupt ending of album closer Wait In This Chair, the only song under three minutes, though perhaps I was simply upset that there was no more. It makes the entire album feel as though it's coming to an underdeveloped halt. But really, I can't say enough good things about this album. The press release called it the perfect summer BBQ album, but it's really much more than that. It will hopefully be a sleeper hit, ending up on some high profile lists at the end of the year as something that was initially buried under all of Grizzly Bear's (not undeserved) hype.
I almost didn't even review this album. Its release date is a bit since past and upcoming releases from Yacht and Julian Plenti are calling my name, but I'm glad I didn't let this slip away. The best and worst part about music is that it becomes a soundtrack to your life. What an emo thing to say. I can almost feel the black tear dripping down my face. But it's true. Emotional ties to music are ridiculous, sometimes even a barrier. You can never really get into a band if you find out the recommendation comes from someone you hate. It becomes harder to listen to an album you'd loved if it becomes associated with heartache. At least, for a while. But, there's always another album, another band. A new soundtrack for a new chapter. That's what Person to Person is for me. It's dark and joyous at the same time, fun and epic sounding enough to seem meaningful, despite my inability to make out most of the lyrics. I'm getting ready to move for graduate school, leaving behind friends and the semblance of an adult life I've built for myself. For a bit, I have to move in with my parents. It's at once a regression and a new start. And while driving down I4 from St. Augustine to Orlando, I'll be blasting Person to Person remembering that there's always something new to discover that can make me pretty happy.
20 July, 2009 - 14:48 — Jaclyn Elgeness