Music Reviews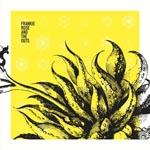 Frankie Rose and The Outs Frankie Rose and The Outs
(Slumberland)

Frankie Rose pretty much owns the Spector-ized land of filtered lala and dreamy girl gaze at this point, steadily dabbling in its ghostly romantic charm. With Frankie Rose and The Outs, her first self-accredited rock music excursion, Rose predictably weaves femininity and cherubic harmonics with garage rock, resulting in a pretty, albeit somewhat tired, retreading of familiar waters. Certainly this album is not a "long, long way from home," so sings the first single, Little Brown Haired Girls.
The key word here, though, is "pretty," and the glow that Rose delivers provides ample primer for these songs to stick. Through her penchant for 60s girl group harmonizing, the hymn-like Hollow Life sets an ethereal tone and conveys a higher level of attention to vocalization that, though present in her other bands, normally takes somewhat of a backseat to the instrumentation. There is a tendency to drift with songs like Lullabyes for Roads & Miles or Memo where the lone guitar accents their walls of song with serenading simplicity. You Can Make Me Feel Bad fashions a single rock chord into a springboard for this same sort of delivery and arrangement.
But, even their more conventional rock songs like Candy, That's What People Told Me and Must Be Nice rely on this device. Consider The Outs a choral development, one that fuses Rose's steez with an obvious desire to physically embody her sound while subtly letting go of the vintage instruments and garage novelty. Rose does revisit the Dum Dum Girls a little bit with Girlfriend Island and takes more of a rockabilly approach with Don't Tred, which is short on lyrics but high on motion.
Save Me is engaging in that Jesus & Mary Chain kind of way and the harmonies are beautifully rendered. As much as it would be easy to lambaste Rose for mostly sticking to the story and possibly abandoning any real opportunity she may have had to branch out with her own group, a song like Save Me sort of makes you glad she didn't stray. Though tied to her sound, she's at least conscientious enough to make sure its romance remains intact. As soon as it starts to sound lifeless, it'll be time for Rose to move on.
12 October, 2010 - 02:31 — Sean Caldwell