Music Reviews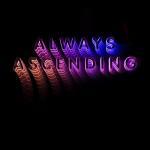 Franz Ferdinand Always Ascending
(Domino Recording Co)

Always Ascending is something of a fresh start for Franz Ferdinand, as stated by frontman Alex Kapranos. After four fun and funky albums, guitarist Nick McCarthy left the band. In response, the lineup expanded to five, with Dino Bardot on guitar and Julian Corrie on keyboards and synths. With these additions, the record reaches for the heights of disco delights, keeping one foot planted with grounded, catchy guitar work.
From the start, the title track brings new sounds to the forefront. It transforms from a slow, melancholy piano melody to a vibrant dance tune. Climbing synths slip into the type of riff that Nile Rodgers would create. Towards the end, the song again shifts gears into a swirling galaxy of shiny synth notes. Lazy Boy brings INXS riffage along sci-fi, sustained piano plucks. The band also try their hand at electro-pop on Feel the Love Go, with fuzzed-out bass and a surprise sax solo. Glimpse of Love and Finally repeat the formula, though to diminishing returns.
Even on one of their slower songs, The Academy Award, Always Ascending brings a fresh perspective. The track sounds like the score for a high school prom in a twisted John Hughes film. Over an acoustic guitar, Kapranos demands, "show me the body." The chorus bubbles up with synth-and-string schmaltz, half 1950s pop, half New Wave. The other ballad, Slow Don't Kill Me Slow, is less successful, closing the record in a forgettable fashion.
While no one would mistake Franz Ferdinand for a political band, they are aware of the troubled state of the world. Rather than ignoring it or writing a protest anthem, though, they split the difference. On Paper Cages, a readymade single, Kapranos sings, "Well we'll never be free/If our incarceration/Is a story we tell/A tale of invention/Is it personal choice/Personal conviction/Or are you living like me in paper cages?" It's a call to do something to help the world, rather than using self-made excuses. But it could also be about getting the courage to ask someone out. It's whatever you want it to be. On Lois Lane, the band brings its 80s best for Kapranos to sing an argument between optimism and cynicism, with the titular reporter's good deeds in the spotlight. Huck and Jim creeps along with a heavy bass line, singing about the differences between U.K. and U.S. health care. The music doesn't hold up on repeated listens, though.
Always Ascending is a welcome shift by Franz Ferdinand, a band that's grown in small increments over the last decade. The change in lineup and move towards an even more danceable style seems to have brought revived energy to the five-piece. Despite the new direction, though, they run into the same old problems. Like their past work, subpar filler holds the album back. It's worth joining them for the climb, just know that it's going to be an uneven ascent.
19 February, 2018 - 04:36 — Joe Marvilli