Music Reviews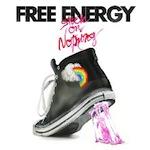 Free Energy Stuck On Nothing
(Astralwerks)
Buy it from Insound

Superficially, Free Energy are pretty basic. They make pop-rock in its most undiluted form, with no clouds of DIY fuzz or angst-ridden feedback to cloud their hooks. They sing about being in love in all of its adolescence, borrowing the same sort of glimmering idealism Born to Run patented. So I wouldn't blame you for expecting their debut to be an entirely forgettable affair. However surprisingly, (even to me!) Stuck on Nothing's basic, good-ol'-boy rock 'n' roll is entirely easy to adore, and easier to dance to.
Unsurprisingly Dream City is still the band's best song. A 2009 blog-buzzer, it's a sweet, pubescent serenade - adorned with E Street Band horns and pellucid 'nah-nah'-ing harmonies. It relates that precious teenaged time, when downtown becomes an amusement park – when you're just old enough un-chaperoned adventure, but young enough to put aside any doubts or concerns. "Free like whatever we dream about /and we're moving through the night /cruising across town /lost in the endless sound." It drips with nostalgia but in the joyous way possible, never coming off sterile or hopelessly aged.
The rest of Stuck on Nothing is no slouch; it brings the hooks hard and unapologetically. The aptly titled Bang Pop is absolutely born for radio, complete with a shout-along fist-pumping chorus "bang! Pop! Pop! /when does the searching stop?" Dark Trance waxes on the sadder side of youth, particularly when you realize how far gone your youth has become; "but if you wait too long /keep telling yourself /that moment has already passed /…that night is over too fast /well don't you want it to last?" it's still immediately catchy, with a towering guitar and tenderly-empowering chorus – but it's definitely a cut below the romanticism that dominates the majority of the record.
Stuck on Nothing does lose momentum in the bottom third, songs like Young Hearts and Light Love tend to stick together in a crunchy, riff-laden mire, they aren't necessarily bad, but after 35 minutes of the same power-pop rigmarole, the tracks can get a little tiring. However, Stuck on Nothing opens strong, closes strong, and the intermediate tracks are interesting enough to maintain interest. Free Energy haven't created anything cataclysmically new, but they have created an entirely likable pop album – and that's a lot harder than it looks.
29 March, 2010 - 21:07 — Luke John Winkie