Music Reviews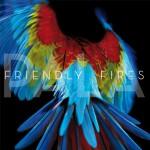 Friendly Fires Pala
(XL)

To my mind a great pop song is like living on a little island of paradise, surrounded by inviting oceans and glorious radiant sunshine: lovely, if a bit mindless. But, after the grey winter, I am sure you need a holiday – so it gives me great pleasure to introduce Pala. The world has missed Friendly Fires and two and a half years since their debut they are back with an album that is, from the name to the cover to the music, both simple and big and colourful; as the summer proper approaches, and the sun hangs opulently across the blue may sky, I can't think of a better time.
It begins well, single Live Those Days Tonight picking up from where they left off two years ago. It's a stomping carnival track as frontman Ed Macfarlane decides to "live those days, live those dreams like they're all mine / I won't let them hold me back!" Blue Cassette goes one bigger and better, launching from its perch into an oceanic hook that lifts the track brilliantly into each euphoric crescendo.
Running Away sees the pace climb faster whilst adding subtle hints of hip hop; swooping falsettos and chiming percussion enter the mix. Hawaiian Air and Hurting follow, proving two of the less glittering but more valuable gems that Pala has to offer. And then, finally, the record starts to mellow with the meandering atmospherics of the elegant Pala. Soon though the status quo of street-festival pop quickly finds its dancing shoes again on Show Me The Lights, complete with steel drums and all.
The energy is so great on Pala that it's not until track 8, the somewhat wearying True Love, when you feel the formula may be first starting to go stale in just the same way as their first record did. Pull Me Back To Earth and Chimes thankfully buck the threat of any unwanted trend, and there is the sense that these are the songs to grow on you. Hand in hand with that promise, though, is the unwelcome thought that the adrenaline fuelled, propulsive fun of the opening tracks may one day begin to grate. Hey there, though, what do you care? Pala is music for the here and the now, with a hedonistic samba swing and a cheeky smile – don't start worrying about tomorrow – after all, it's still a day away.
16 May, 2011 - 08:58 — Joe Iliff